by Diane Alter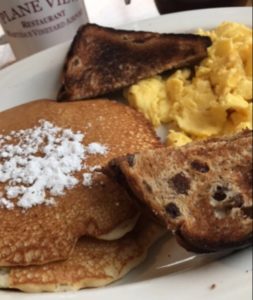 Travelers in and out of Martha's Vineyard via airlines rave about the airport's Plane View Restaurant. While the island is a destination for these visiting fliers, the Plane View Restaurant is one of the Vineyard's best kept dining destination secrets.
Parking in the towns, can be trying (to put it mildly) during the height of the summer, often leaving diners spending more time parking than dining. While the Plane View can be just as busy as down town eateries, the reduced traffic and guaranteed parking is worth the trip alone. But the true treat is the food.
The Plane View serves breakfast and lunch seven days a week year round. In season, extended hours are offered to 7 p.m.
Breakfast here is an experience and has travelers anticipating return trips—or even delays. Locals, meanwhile, come often for one of the best morning meals around.
Eggs and omelets your way with a variety of accompaniments, fantastic French Toast, and fluffy Buttermilk Pancakes wake you up and get you started. The B-52 Bomber includes two pancakes, two eggs any style, two sausages and two slices of bacon. Add home fries, for an even heartier meal. Muffins, pastries, bagels and cereals are other options.
Breakfast is served from 7 a.m. until 11:30 p.m. On Sundays, breakfast is available until 2 p.m., making the Plane View an ideal spot for brunch.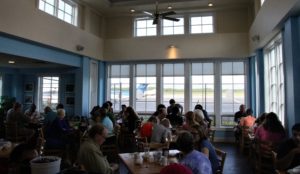 Burger offerings from the grill at lunch and dinner including a turkey burger with a savory roasted pepper mayonnaise and a Southwest Blackbean & Sweet Potato Burger topped with fig spread and brie.
An open steak sandwich, Philly steak sandwich, and hot pastrami sandwich are additional choices.
Hearty and healthy salads include a Buffalo Chicken Salad. Spicy with a bounty of buffalo chicken atop a bed of crisp romaine with vine ripe tomatoes, onions, cucumbers and crumbled tangy bleu cheese. Ranch dressing adds even more zing.
A sensational Caesar Salad with a variety of greens, toasted croutons, parmesan cheese, anchovies and dressed with a traditional Caesar dressing is another option. Top with shrimp or chicken for a full meal.
Deli sandwiches include a Southwest Chicken Warp and a Plane View Club.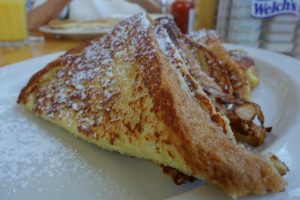 Fish & Chips, Scallops, a Clam Plate, Baked Cod topped with Ritz Cracker crumbs, and a house favorite–the Plane View Fish Sandwich–deep fried and topped with cheese, are also available.
When there is a chill in the air, chunky chowders, chili and homemade chicken pot pie are perfect choices.
The Plane View Restaurant is bright, welcoming, and located away from the island's summer rush. It is an extension of the Vineyard's fantastic food scene and it will have you arriving and departing fully sated.
MORE INFORMATION
139 Airport Rd (In the Airport)
West Tisbury
(508) 696-7400