The Monster Shark Tournament Comes Back to the Island for what could be its Last Time.
by Shannon Corcoran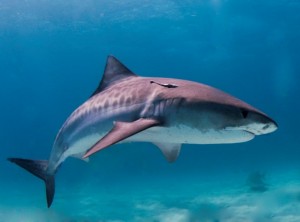 As most know, the 1975 classic movie, Jaws, was filmed on the island. Since the film's release, the public has become infatuated with sharks and the films infamous, vineyard setting, thus leading to countless documentaries on the production, island wide tours and even an annual Monster Shark Tournament that draws thousands of visitors every summer.
The Monster Shark Tournament has kept the spirit of Jaws very much alive on the Vineyard since its creation over 15 years ago. This weekend, it's coming back for what can potentially be its last time as an event with the ever spectacular dockside shark weighing's.
The rules are simple; on Friday and Saturday, each of the over 100 fishing boats and its respective crew will head out into the surrounding ocean and try to catch a "monster shark." Once the fishermen are happy with their catch, they'll come back to the dock in Oak Bluffs to show off and ultimately weigh their days' worth of work in front of the thousands of spectators. On Saturday night, the crews will be treated to a formal awards ceremony, and if their catch was truly a monster, will be the recipients of fishing related prizes and of course major cash.
The fun won't stop at the docks though. Island Bar and Grill, on Circuit Avenue in Oak Bluffs will be providing nonstop entertainment throughout the weekend. Starting with karaoke on Thursday and going strong through Saturday night and serving plenty of great food in between, this eatery and bar will certainly leave you without a single moment to spare all weekend.
"As the headquarters of the tournament, Island Bar and Grill is going to be having a slew of music events throughout the weekend," said manager Sonny Chibber. "Ultimately, we want visitors to be able to count on us to show them a good time after the action on the docks!"
Though the boats will be coming back to the docks throughout the day, the weighing of the sharks won't be taking place until the late afternoon, so be sure to be around Oak Bluffs Harbor all weekend to be a part of all of the excitement!