BY CAROLINE CARDOSO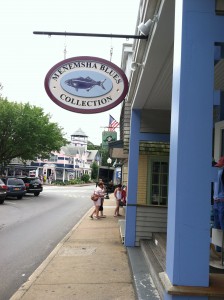 "Sophisticated, relaxed, and comfortable," are the three words Menemsha Blues uses to describe the sense and feel of their clothing and apparel found in four different stores on the Island. And I'm glad to say I totally agree. From the original store in Menemsha Village to the Menemsha Blues store on Dock Street in Edgartown, the easy breezy feel of Menemsha Blues takes on Oak Bluffs with the recent opening of their new store on Circuit Ave.
When Bob Fuller founded the classic blueswear company in 1994, he named the company line of apparel after the laid back, seaside lifestyle of the Island and the calming colors and textiles of the store's clothing to create the Menemsha Blues Collection. As you walk into any of the four locations you are first struck with a warm and welcoming smile from the associates in the store. The moment I opened the door, the bright–yet warm–colors of the clothing are what caught my eye; and I guarantee that once you feel the material of the clothing, you will fall in love. With almost everything from men's, women's, and children's clothing, to accessories like beach bags and towels, their famous bluefish logo is surely a trend setter.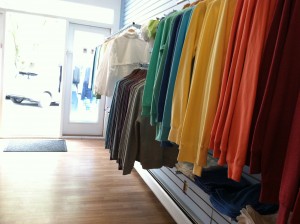 If you visit their website you can find a link to their "Fan Page", where purchasers can post photos of themselves in their Menemsha Blues apparel. Stop by a Menemsha Blues store today and add the classic blueswear to your closet–don't forget to send a photo to their fan page!
Menemsha Village: 2 Basin Road, Menemsha, MA, (508)-645-3800
Edgartown Store: 6 Kelley Street, Edgartown, MA, (508)-627-4009
Vineyard Haven: 36 Water Street, Vineyard Haven, MA, (508)-693-9599
Oak Bluffs Store: 47 Circuit Ave, Oak Bluffs, Ma, (508)-693-1004