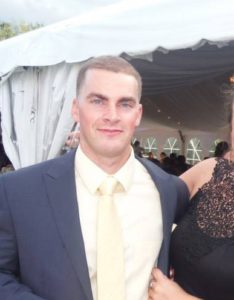 Craig Ranucci—or Nooch, as he is known to friends and regulars, is back for his third summer on the Vineyard and his second working at the Lampost. Originally from central Massachussets, Craig lives in Oak Bluffs about seven months out of the year. When he's not on the island? Who knows… This Week interviewed him to find out what he likes about the island, drink requests, and what you shouldn't do when trying to get your bartender's attention.
TW: Where do you spend your winters?
CR: It's up in the air. This past winter I was in South Boston working in a restaurant. I'm not sure what I'm gonna do this coming winter, maybe go somewhere warm, maybe somewhere cold.
TW: How do you like being here in the summer?
CR: I love it, it's the best place in the world.
TW: Why?
CR: It's an absolutely beautiful island, there's so much to do. It's got the best beaches, the best harbors, all my friends are here. I can go to the beach every day and go to work at night.
TW: Besides going to the beach, what do you like to do when you're not working?
CR: I take care of my puppy, I play golf whenever I can, I go on bike rides, rollerblading—I'm trying to bring rollerblading back!
He asks to pause the interview because a customer walks to the bar. She asks him to change the music and play 90s songs. After a bit of discussion about what she means, he lands on that "I get knocked down" song. Nooch comes back to the back of the bar, where we're sitting.
TW: Do you get a lot of people asking for you to change the music?
CR: Yeah, and I usually say no, but they're my only customers now, so…
TW: You talked a lot about what you like about the island, is there anything you don't like?
CR: (After reflecting for a while) I plead the fifth on that one.
TW: Let's talk about bartending. What do you like about it?
CR: I like being able to talk to people. I like to work nights. I like working in a fast-paced environment. I like that you
can do it anywhere in the world. I like working in restaurants.
TW: What about working here at the Lampost? What's special about it?
CR: I just love everything about the Lampost, it's the best bar down here. All my friends come to the Lampost to have a drink, so essentially it's me hanging out with them but I'm just working. I get to control the music…
TW: What's a best way for a customer to get your attention if its really busy?
CR: If it's really busy… Just probably, honestly, try and find a way to the bar. There's a point that I just walk up and serve whoever is in front of me. Definitely don't snap your fingers, definitely don't yell "Hey!", definitely don't crawl on the bar. You can put that in there!
TW: Have you ever gotten a weird or obscure drink request?
CR: Yeah, I got a really weird shot request once, it was something with "crazy screaming chicken shot". It wasn't even
that crazy of a drink, don't even remember what's in it.
Note: For those interested, Screaming Chicken is 1 Shot Tequila, 10 to 15 Squirts of Tabasco and 1 egg.
TW: Which drink do you order when you're on the other side of the bar?
CR: Either the cheapest beer you got or a Tito soda.
TW: What do you think is the go-to summer 2017 drink for the Vineyard?
CR: I still think it's gonna be the summer of Tito's.