The Film Society's New Home and Summer Debut
by Courtney Taylor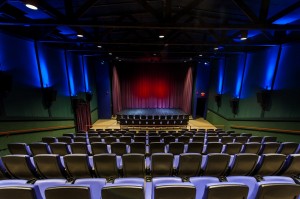 Enjoying the show at the Martha's Vineyard Film Center guarantees a fantastic night out with friends and family. The theater officially opened its doors last September, debuting during the Vineyard Haven Film Society's International Film Week. Because this will be the first summer that the theater is open, the Vineyard Haven Film Society has big plans for the season.
The center–a state of the art digital movie theatre with 180 stadium-configured seats—is a social center for all moviegoers. In a recent interview, assistant creative director Steve Zablotny said that the Film Society "finally has a home" and invited all ages to enjoy the five-star experience.
Moviegoers can view many of the best in independent films, movie classics, documentaries, and world cinema at the MV Film Center. Films will be shown seven days a week now through September. Out of respect for the established businesses in the shopping center, films are shown after working hours.
In addition to offering an enriched film program, the Vineyard Haven Film Society presents film-related speakers, educational programs, and special events to promote its mission to increase cinema appreciation. Last week, for example, the theater presented Tiger Eyes, the first of iconic author Judy Blume's novels to be brought to the big screen. Special guest and director Lawrence Blume was also in attendance and facilitated a Q&A after the showing.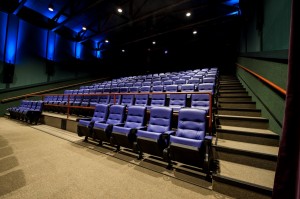 According to Vineyard Haven Film Society intern Ben Mankoff, the cinema experience brought to Martha's Vineyard by the Society is unlike most other theaters in the country. Each night a presenter formally introduces the show. The cinema experience at the MV Film Center is celebrated – be it with a reception, live music, or special guest speaker.
The MV Film Society will soon be premiering "Midnight Showings," which will – ironically – be shown at 10pm as to not turn viewers out too late in the evenings. Expect cult fiction and classic films, such as Island favorite Jaws, on the big screen this summer.
On occasion, movies are sponsored and are able to offer free admission to all. However, during the majority of the year, tickets can be purchased for $12.00. Members, seniors, students, and children under 14 can purchase tickets for $7.00. Tickets can be purchased online at mvfilmsociety.com or onsite.
Enjoy the show – come one or come all! The theater offers top-of-the-line refreshments – from international fare to locally produced goods, such as raw desserts by Not Your Sugar Mamas. Although the theater can fit 180 people, we suggest that you purchase your tickets early. The shows and the experience are a definite must-see!
Coming Attractions:
MUD – encore audience favorite
Monday June 24, 2013, 7:30 PM
Thursday June 27, 2013 7:30 PM
Stories We Tell
Friday June 28, 2013, 7:30 PM
Saturday June 29, 2013 7:30 PM
Tuesday July 02, 2013, 7:30 PM
Wednesday July 03, 2013, 7:30 PM
National Theatre Live – The Audience
SPECIAL EVENT
Sunday June 30, 2013, 7:30 PM
Monday July 01, 2013 7:30 PM
Diana Vreeland: The Eye Has to Travel
SPECIAL EVENT
Wednesday July 03, 2013, 7:30 PM
Midnight@Ten: JAWS
Friday July 05, 2013, 10:00 PM
Saturday July 06, 2013 10:00 PM