Barbecues and Parades for America's Birthday
by Ashley Amato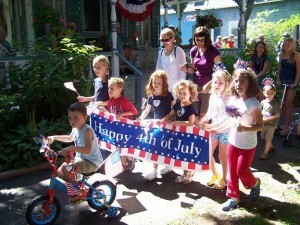 Fourth of July on Martha's Vineyard is notorious for the amount of people it attracts to the island. But don't fear getting lost in the crowds because there is plenty planned for the whole weekend!
Some fun and friendly competition can be found at the Vineyard Streetball Classic on July third. The three-on-three basketball tournament has been a part of Fourth of July weekend for ten years. Come to challenge players from throughout the northeast and support the development of basketball programs for youth. A portion of the proceeds goes towards improving basketball courts throughout Martha's Vineyard. The tournament welcomes anyone ages 9 to 18 and is located at Niantic Park in Oak Bluffs from 10am to 5pm.
Murdicks' Run the Chop Challenge in Vineyard Haven kicks off the fourth. Starting at 9am at the Tisbury School, kids and adults alike run five miles to benefit Rotary of MV to support Vineyard Kids. Previous years, the run has attracted over 400 participants and is sure to have another sizable showing. Murdick's Fudge sponsors the race and after the run don't forget to grab some of their tasty treats!
At 4pm, head to the Old Whaling Church Lawn in Edgartown to enjoy a classic American picnic. Fella Caters will be serving up hamburgers, hotdogs, and other grill food for purchase. Bring everyone in the family and gather on the lawn for a fun dinner. Music from the marching bands will burst through the air so sit back for their free concert. The lawn is a great location to walk to Edgartown's Annual Fourth of July Parade.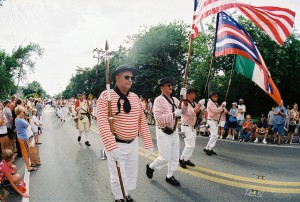 The Fourth of July parade will wind its way through the streets of Edgartown starting at 5pm. Pick out your favorite float and watch as bagpipers, dancers, and even animals make their way down Main Street. The parade is open to all and those who wish to join in on the fun should register prior with the Selectmen's office. Make sure to come ready in your red, white, and blue!
As dusk falls, head to the Edgartown harbor front to watch the fireworks fill the sky with cascading color. The Memorial Wharf and North Water Street are both popular places to watch the display.