Stop By The Sweet Spot For Ice Cream, Nostalgia Candies, and More
By Hayley Smith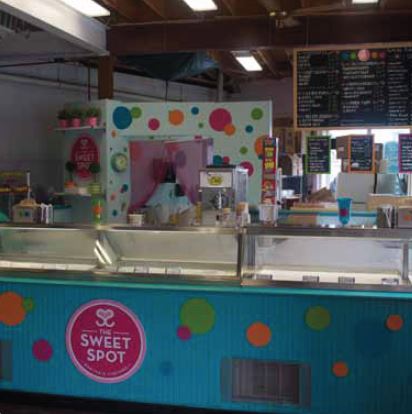 Where on Martha's Vineyard can you find homemade ice cream, 'nostalgia candies,' and specialty popcorn? What is a 'nostalgia candy' anyway? All the answers lie right inside the polka-dotted walls of The Sweet Spot, a family-run shop located in Oak Bluffs' Marina Dockside Marketplace.
When you first walk in, you might think The Sweet Spot is just your average ice cream shop. With every flavor you can imagine, it's the perfect place to stop in as you're walking through the scenic Oak Bluffs harbor. But as you take a deeper look into what The Sweet Spot has to offer, you will realize that it's not just your average ice cream shop.
Along with their ice cream, The Sweet Spot provides a wide selection of 'nostalgia candies,' which are pretty much just what they sound like: candies that make you feel nostalgic. These chocolate seashells, colorful handmade lollipops, gummy bears, and plenty of other old school candies will make you feel like you're thrown back to the 1950s.
Jeremiah McCarthy, the owner of The Sweet Spot, says that his business specializes in these highquality old school candies. "That's not to say we don't sell things like candy necklaces, Ring Pops, Pixie Stix, and other types of candies that are popular with the kids today," he adds.
The Sweet Spot also provides delicious Salt Water Taffy treats. And what would a summer on Martha's Vineyard be without some Salt Water Taffy? They also offer handmade Flat Taffy, which is an unusual but delectable spin on standard Salt Water Taffy. With other items such as frozen lemonade and other refreshing beverages, there is sure to be something for everyone at The Sweet Spot.
Apart from the ice cream, candies, and frozen treats, The Sweet Spot also offers fresh popcorn. It's not just the typical movie theater butter popcorn, though. With flavors ranging from Kettle Corn to White Truffle Parmesan, these specialty popcorns from North Carolina will satisfy everyone with a sweet tooth and a salty tooth.
McCarthy hasn't always been in the candy-selling business. The former attorney left his law practice to open the family-run Sweet Spot last summer. At the end of a very successful season, McCarthy has no regrets about leaving his practice. "Business has been great this season," he says. "It's much better this summer than last summer."
'Like' them on Facebook to receive updates from the employees of The Sweet Spot. Well, not so much updates as hilariously profound quotes regarding the importance of ice cream. Some of these include: "Without ice cream, there would be darkness and chaos" by Don Kardong and "My advice to you is not to inquire why or whither, but just enjoy the ice cream while it's on your plate" by Thornton Wilder.
Open from 10:30 am 10:00 pm, The Sweet Shop provides sweet deliciousness all summer long. Take a trip with the whole family down to the Oak Bluffs harbor and stop in to satisfy your sweet tooth and give your taste buds a dose of nostalgia.
The Sweet Spot in the Dockside Marketplace
off of Circuit Ave Ext. in Oak Bluffs