Maggie's Salon
Pampering with a Smile 
"My staff are the nicest people around and they take good care of the customers"
Aley Lewis
It's all fun and games until your hairdresser chops off one too many inches at your annual appointment. Since hair is such a big deal, it's hard to find a stylist that will take the time to get to know you, become familiar with your hair type, and how you envision your dream do. You know what I mane?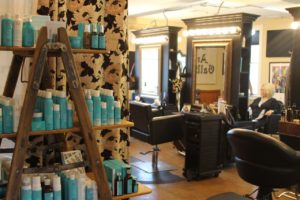 However, if you're sick of your hairdresser pretending she's back in beauty school and using you as her dummy, it's time to pay a visit to Maggie's Salon in Vineyard Haven.
Owner Maggie Mae has been in the business for 12 years.  With her salon winning The Best of The Vineyard Award eight consecutive years in a row, she and her staff understand every type of hair.
"I graduated Martha's Vineyard High School and went to nail school in Hanover, MA, then came back and worked at a salon for a season. I then left the island for a little bit and came back to commute to Hyannis where I completed hair school," Mae told This Week.
Along with excellent customer service, you can find services to fit every beauty need. From Shellac manicures and pedicures, to haircuts (not just for women, fellas!), permanent color, blow- dry styling, balayage and wedding services, Maggie and her seven different stylists can do it all.
Specializing in different aspects of hair styling, Beth a.k.a "The Curly Hair Queen" is known for being incredibly talented with curly hair, and Emily does a killer stacked bob.     "Everyone has a specialty, whether it's how they sell confidence, compare the right people with the right products, or with consultations"  said Maggie.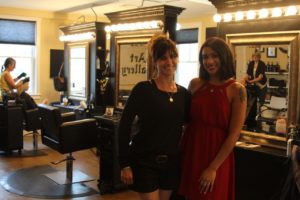 If the award-winning service doesn't attract the crowd, then the salon itself does. Tucked away in a large building space in Vineyard Haven, Maggie's Salon is beautifully posh. The chic black design brings you to a salon on Newbury St or New York City, while the large mirrors and Hollywood light bulbs bring out your inner diva.
If you're bored with your do, or just want to change it up a bit, pay a visit to Maggie's Salon in Vineyard Haven to see who can cater to your Vineyard beauty needs.
Maggie's Salon
31 Beach Road
Suite 103A
Vineyard Haven, MA 02568