Doing it Vineyard Style, One Store Tells Many Stories
By Liz Hilfrank
Sandwiched between restaurants and ice cream shops, Made MV contains the less edible aspects of Martha's Vineyard. The artisan store is new to Circuit Avenue in Oaks Bluff, but it holds much Vineyard history between its freshly paneled walls.  
Walking into the store, one quickly learns just how much artistic talent lives on the Vineyard. With candles, clothing, paintings, photographs, jewelry, woodwork and pottery lining the shelves, it is clear that the island serves as creative inspiration for many. This inspiration leads artists to design and to share their love of the island with those who may not be able to experience it everyday.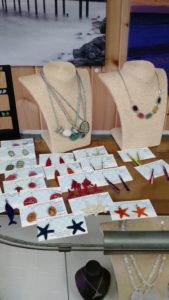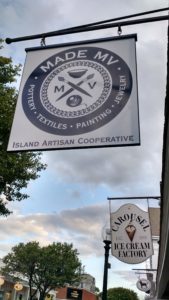 It is precisely what led Holly Lawyer to open her store in 2014. Having always wanted to showcase her work, Lawyer dreamed of opening a storefront. The problem was that, as anyone can attest to, she quickly found you just cannot do it all. Thinking that others may be in the same predicament, she decided to take a more team-like approach to her dream.
"I was thinking what better way than if other people are struggling the same way, to come together and call it a day," said Lawyer.
Needless to say, her thought was a good one. The initial spark caused a fire that continues to grow. Both young and old share their art with the store.
"Right now we have about 35+ different artists," said Lawyer. "It's kind of a gateway for people who are starting out. Some people are retired, and it is just a spot to put their stuff without having to worry about it, instead of jumping from fair to fair."
Not only is the entire store handcrafted, but much of it is natural, too. So, a purchase from Made MV not only guarantees a one-of-a-kind item, as no two things are ever the exact same, but it also provides the pride of owning something made of only Vineyard materials.
As noted prior, this store is not a food store, yet this chocoholic writer managed to find that there are, in fact, all-natural chocolate bars placed right beneath the all-natural bath scrubs. Chocolate and bubble baths, it doesn't get much better than that.  
But even if that does not entice you, maybe the "grow-with-me" dresses sewn by Lawyer will catch your eye. The owner guarantees that these dresses, like all the other store products, are durable to last, and one child may be able to wear it for up to three years.  
Each piece in Made MV has a personality attached to it – and — if you're lucky — you may even be able to meet said personality. Walking into the store Thursday afternoon meant witnessing Lawyer converse with one of her artists about her latest rock lamp accompanied by a shell-designed lampshade, and this scene is not a rare one.
Between the vast array of goods and personalities constructing the store, any visitor can ensure that his purchase from Made MV is one that will not be found anywhere else.