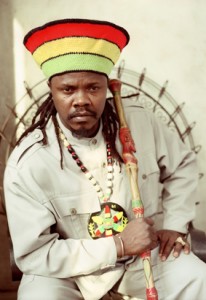 As the weekly Jiggy Sundays at Dive Bar show, there is a healthy reggae scene on Martha's Vineyard. Reggae music has traditionally flourished in island climates while it also doesn't hurt that a large portion of the island's Brazilian population also loves reggae.
So it comes as little surprise that this summer will see some high-profile reggae names appear on the island. One of the biggest ones is coming up on this Wednesday when Luciano will take the stage at Flatbread.
Luciano started recording back in 1993 when he released his debut album "Moving Up". While this album was successful, it wasn't really until the 1995 release of "Where There Is Life" that Luciano emerged as a force to be reckoned with in the reggae music scene.
Although his real name is Jepther McClymont, the name Luciano was chosen as an alias thanks to its appropriate meaning of "bearer of light." Luciano fancies himself and his music as being a light into a dark world. Some of the uplifting themes that shine throughout his songs are those of Rastafarian edification and African repatriation.
Songs like "It's Me Again Jah" and "Lord Give Me Strength" hold the distinction of being deeply devotional and yet widely accessible. Another song, "One Way Ticket," is widely regarded to be among the finest repatriation anthems ever written. Based on the strength of songs like these, Luciano rose to the top of the reggae charts and cemented his place among the best artists in the genre.
Nicknamed "Jah Messanger," Luciano is also a poet in addition to a reggae artist. This reggae legend will take the stage later in the evening with opening performances coming from the Island's own Island Thunder band and also special guest Iyahphanso.
Here's a link to Luciano's video for "Lord Give Me Strength," which should give people a good idea of his sound. Although this concert cost $30 at the door, the price of admission is worth it to see a living legend of reggae in person.
-James Reagan