Sushi Star Tony Ni Shares His Secrets Behind the Sushi Bar of the Lookout Tavern in Oak Bluffs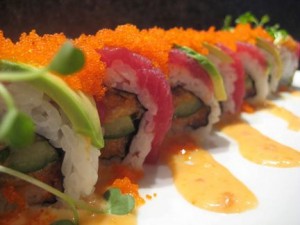 On a cool night or a hot day, the Lookout Tavern's sushi bar is the place to be to get out of the sun and satisfy your bellies with freshly prepared sushi. Run by the Net Result, the sushi bar at the Lookout Tavern–awarded Best Sushi on Martha's Vineyard by Martha's Vineyard Magazine in 2012–takes over once again. Whether its a spicy salmon roll with avocado, or the Vineyard Roll with tempura shrimp, crab salad, and mayo, the chefs never fail to keep it fresh.
With never less than a full bar, the sushi chefs are constantly on their toes, creating new dishes and satisfying the customers as they come. The master behind the creations made behind the bar is Sushi Chef Tony Ni, famously known as the "King of Sushi". Ni has been one of the Lookout's head chefs at the sushi bar for the past 3 years. Having prior experience in the culinary world at Japanese restaurant Yama in Union Square, Manhattan, Ni was able to find is passion in sushi, creating what tourists and locals call "the freshest sushi around". Leaving Manhattan behind Ni brought his skills to the island–maybe if you're lucky he will share his secret!
When did you know that making sushi was your passion and what you wanted to do?
Probably about 5 years ago when I started in Manhattan at a Japanese restaurant called Yama. I worked there for about two years, it's very popular. It used to be very hard to work and to find work, now maybe it is easy. Now I work every day at the Lookout Tavern sushi bar.
Are there any special tricks that you use when you are making sushi that are different from what most people do?
Tony's secret? Well my special is a type of sushi with salmon on the top and some ikura and also some seaweed salad on the top.
Do you think you are more busy at night or during the day?
At night the sushi bar is very busy
Tell me one really cool fact about yourself.
I love to play basketball. Sometimes early in the morning I wake up and play basketball with a few of my friends. Especially when I don't have work, it's a lot of fun.
What is it like to work at the sushi bar at the Lookout Tavern?
It's pretty cool, sometimes very very busy. Everybody thinks I'm a crazy worker because I work almost everyday. But I love when it's very busy here, it is very tiring but it makes me so happy to be here. I love it here.
MORE INFO:
8 Seaview Ave
Oak Bluffs, MA 02557
(508) 696-9844
Mon-Sat 11 am – 12:30 am