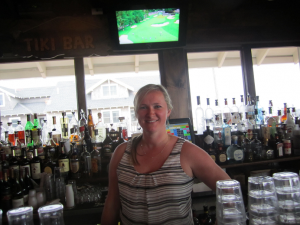 How did you end up on the island?
I used to come here to vacation, start working here full time around 10 years ago.
Favorite drink:
Mojito.
Favorite bar to go to when you aren't working:
Chesca's Restaurant.
Favorite drink to serve at work:
Cucumber Bloody Mary with shrimp.
Funny bar story:
The other night, a couple people had gone through a few rounds of drinks. They then asked directions on how to get to Martha's Vineyard.
Have you met any celebrities while bartending?
Tracy Beckham, Luke Wilson, Michael J. Fox, and Bill Murray.