Linda Jean's Provides Island with Homemade Food For 30 Years
by Hannah Payne
You know a restaurant is reputable when it's overflowing with locals and regulars. Located on the most popular street in Oak Bluffs (Circuit Avenue), Linda Jean's has been providing the island with fresh, homemade food for more than thirty years. Open from 6 in the morning until 8 at night, the adored restaurant serves breakfast, lunch, and dinner. Take-Out is also available, of course.
The exposed brick, wood beam ceilings, beautiful white booths, and counter seating gives Linda Jean's a charming farmhouse feel. The pleasant, friendly atmosphere makes Linda Jean's a perfect choice for families. In fact, the eatery has recently been voted "Best Family Dining" by Cape Cod Life. "We were seated within five minutes, and the service was spectacular. Our waitress was incredible with our kiddos, and she never let our drinks run dry," says Ashley Vang, first time visitor from Carrollton, Texas.
The restaurant has also been given the "Best Breakfast" award by Martha's Vineyard Magazine. Apart from Belgian Waffles, Country Omelettes, and Blueberry Pancakes, a popular breakfast recommendation is the Steak & Eggs – an 8 oz. sirloin steak, 3 large eggs (any style), home fries, and toast for $12.99. Another trendy pick is The Alabama platter – chicken fried steak smothered in country gravy with three eggs, home fries, and a biscuit for $11.99. Breakfast is normally served until 11:30am; however the weekends tend to be busy, and breakfast may run as late as 1:00pm.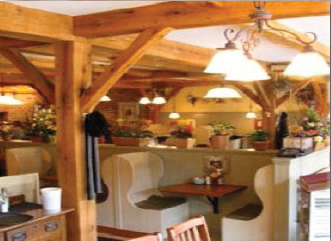 "First of all, what I love about Linda Jean's is the people that work there and the ownership. They have clearly figured out a way to produce high quality, wholesome food at a reasonable price. It seems like they're open before the sun comes up and after the sun goes down. As a fellow business owner, I appreciate that," says Richard White, local business owner and regular at Linda Jean's.
This particular restaurant is breaking the mold, and you can't compare it to a traditional eatery. For lunch and dinner, Linda Jean's offers daily seafood specials. Try the baked Haddock with Scallop and Lobster Sauce or the Fresh Fried Clam Plate. If you're tired of seafood, choose from the Grilled Portabella Mushroom Wrap, Chicken Parmigiana, Grilled Sirloin Tips, or the traditional Cheeseburger. All of their sauces, gravies, and soups are made from scratch. Each meal is made fresh and to order, using the finest ingredients.
"With a world-renowned cook, Linda Jean's is a fixture in Oak Bluffs, and I highly recommend it to anyone who is in town for just the day or for the week," says White.
MORE INFO:
25 Circuit Ave. Oak Bluffs, MA 02557
(508) 693-4093
Open 6am-8pm