A Martha's Vineyard Staple for Nearly 50 Years, Larsen's Fish Market is a Favorite for Fresh, Locally Caught Seafood
by Diane Alter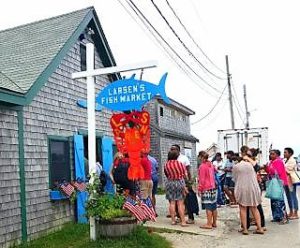 One fish, two fish, red fish, blue fish.
No, this is not a story about the familiar nursery rhyme. This is a fish tale about the finest and freshest locally caught seafood establishment located up-island in Martha's Vineyard.
Nestled in the quaint fishing village of Menemsha, Larsen's Fish market has been a favorite island fixture for nearly half a century. Founded in 1969 by Louis and Mary Larsen, the market had humble beginnings. Louis, an offshore fisherman at the time, opened the market with his wife Mary to help support the local fishing community by offering fair prices to both the fishermen and the customers.
Daughters Betsy and Kristine started working at the market during their teenage years. Enterprising Betsy took over the whole operation at just 19 years old. The Larsen clan continues to run the market with help from locals and summer residents.
Larsen's Fish Market has become so legendary that is now sells T-Shirts, hoodies, hats and coffee mugs embossed with its signature logo.
But it is seafood that lures people to this exceptional fish market. The simple axiom that has served Larsen's so well over the years, and continues to do so, is: Keep it fresh; keep prices fair; and keep it friendly.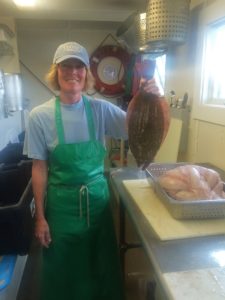 Larsen's Fish Market offers a plethora of fresh seafood hooked right off MV's shores. Fish selections include Stripped Bass, Bluefish, Cod, Flounder, Mako, Salmon, Swordfish and Tuna. Shellfish offerings include Calamari, Littlenecks, Mussels, Oysters, Scallops, Shrimp and Steamers. All are sold at market prices, which changes daily.
Larsen's also serves up a wide selection of seafood expertly prepared from its own kitchen. Chowders, Lobster Bisque, Lobster, Stuffed Scallops, Crab Cakes, Steamers, Mussels and more are offered. Items available from the Raw Bar include Oysters, Littlenecks and Cherrystones. Available in Larsen's tempting cooler are luscious Lobster Rolls, savory Seafood Spreads, healthy Seaweed Salad and scrumptious Shrimp Cocktail. Daily specials are also offered.
The market's seafood selection and right-off-the-boat freshness are reasons enough to make the trip up-island. Another reason is Menemsha's unrivaled sunsets. Every evening as the sun settles down for the night, people flock to the sleepy village of Menemsha, located down the hill in Chilmark, to witness a burst of colors that light up the pristine sky.
Bold reds, marmalade oranges, lemon yellows and ripples of soft pinks paint Menemsha's heavens. A bevy of boats, not grand in size or scope, dot the caerulean waters. Visitors and locals frequently make a night of this unequaled display from Mother Nature and stop by Larsen's for a sensational seafood picnic.
The Larsen's crew likes to remind customers that Menemsha sunsets are an extremely popular island attraction, so they advise customers to place their order early in the day.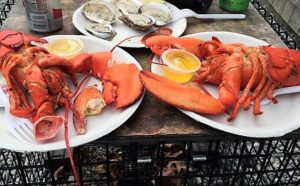 Martha's Vineyard is an island, as such, it surrounded on all sides by water. Fishing here is both a sport and a profession. Fishermen's job here is to go out and find the ocean's delicacies. Larsen's Fish Market's job, which it has successfully done for some 48 years, is to pick out and offer only the sea's best finds.
Larsen's Fish Market is located at 56 Basin Road, Chillmark. Hours of operation are 10 a.m. to 6 p.m., seven days a week. Additional information can be found at www.larsensfishmarket.com.
More Information
56 Basin Rd
Chilmark
(508) 645-2680
larsensfishmarket.com