Lampost Bar & Nightclub Now Serving Food Prepared By Skinny's Fat Sandwiches
by Shannon Hurley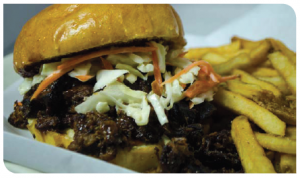 Hand-formed seasoned beef patty covered in pepperoni, cappicola, and salami, topped with a fried chunk of provolone. Fresh roasted chicken with homemade gravy wrapped in puff pastry, topped with celery, onions, peas, and carrots. Beer battered pickles, zucchini, summer squash, and Portabello mushrooms. No, it's not a new restaurant offering up these tasty concoctions, it's a bar. Island staple and popular nightlife destination Lampost Bar & Nightclub is now serving food until 10pm, offering a homemade, fresh menu from Circuit Ave neighbor Skinny's Fat Sandwiches, providing Oak Bluffs with a new lunch and dinner destination.
Realizing they wanted to do something bigger this year, co-owner Jamie Hayes and his partners, along with
Al King of Skinny's, developed a plan over the winter to serve a menu of bar food staples with a twist, made with the freshest ingredients.
"We took over the place 9 seasons ago," says Hayes, "and we've been trying to figure out how to get food in here in some way since then."  They scooped up quite a few more flat screens, added bigger tables, nicer stools, and air conditioning, effectively re-configuring the main floor to be more comfortable to dining patrons. "We really tried to make it more inviting to come here and eat," says Hayes.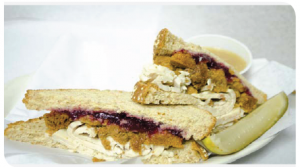 A task that shouldn't prove too difficult with nothing on the menu over $12.95 and offering everything from traditional bar fare like pick-your-own sauce wings, steak quesadillas, and cajun fries to handmade dishes from the grill like a blackened burger with bleu cheese and bacon or two grilled cheese sandwiches stacked with a burger in the middle. And include daily specials such as smoked chicken empanadas with cilantro sour cream, coconut shrimp with sesame soy sauce, and Sheperd's Pie with roasted veggies.
"Everything's made fresh, all the ingredients are fresh," notes Hayes, "everything is made in house." 
Hayes and his partners see this as the beginning. They already have plans to expand with a late night menu serving food from 10pm until 1am, hoping to accommodate tourists and locals who get hungry long past the somewhat early kitchen calls the Vineyard is known for. And this new attention to culinary goodness has spilled over to the drink menu, promising a refreshed cocktail list to take advantage of the fresh juices and expanded options access to Skinny's kitchen provides, as Hayes affirms, "the menu will be constantly changing, evolving."