Keeping Joy Alive on the Island
38th annual Possible Dreams Auction grows bigger and better
By: Liz Hilfrank
Speak with any Martha's Vineyard visitor, and when you ask them what they liked about the island, nine times out of ten they will mention the people. There's something about the island that breeds happy people. The locals seem to always have a smile on their face, and ferry goers who may come grumpy in the early morning are often seen leaving with sun kissed contentment.
Happiness doesn't just come from anywhere; it comes only when people genuinely care and respect one another. Martha's Vineyard Community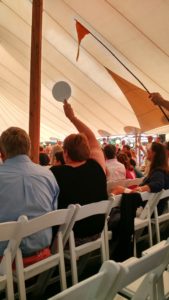 Services harbors 100 employees to make sure the 6,000 island residents that use its programs are happy, and this certainly confirms the care that the organization has for this island.
MVCS offers six different services to ensure that every island resident, whether nine or ninety, is taken care of. In other words, it works to make the impossible dreams come true, and in order to do so, it holds the Possible Dreams Auction.
The largest charity event for MVCS will celebrate its 38th year on July 31. What began with a few concerned individuals wanting to raise money for the island has grown into an event known both nationally and internationally. Celebrities from all over donate unique, one-of-a-kind opportunities for live auction, silent auction, super silent auction or raffle.
"The whole philosophy behind it is that everything [for auction] is unbuyable," said second-year chair Liza May. "It's truly an unique experience."
While the celebrities may be from all over, there's a similarity between them. They each have a special connection to Martha's Vineyard. Take Seth Meyers,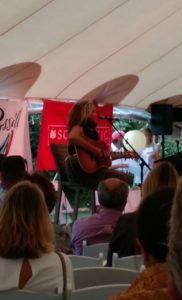 for example. In September of 2014 he got married on the island. The Possible Dreams Auction of July 2015 then included the opportunity to attend one of his late night shows. This year, he expanded the offer to include a hotel stay.
One night. That's all it took for Meyers to feel connected to the island in such a way that he wanted to give back.
There are many stories similar to his. Designer Kenneth Cole, for example, owns a house here, and he donates a $1,000 gift card annually. Producer and director Doug Liman lives on the island part time, and this year he's auctioning off the chance to attend the New York City or Los Angeles premiere of his new movie, MENA.
You can't forget about the island talent though, which is what May loves most. Buddy Vanderhoop offers a fishing trip with a Harvard professor, while photographer Alison Shaw and artist Kara Taylor work with Sally Taylor to offer an interactive artistic experience, and David and Julie Keefe donate their home in the Village of Kinvara for a week, just to name a few.
"I think some of the best people are the local celebrities," said May. "This year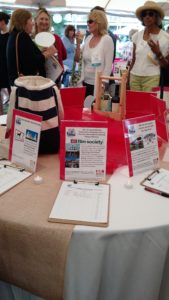 in particular we have a lot of fantastic trips planned, and it's because of the connections to the island."
Without local contribution, the event would not be nearly as special. It thrives on the energy of locals helping locals. This year, a primary focus of the auction is to make sure all attendees know where exactly their money goes. There will be booths for each department set up at the event's entrance, and guest speakers intermingled between auction items. According to MVCS communications and web content manager, Mary Korba, these speakers will be the best part of the evening.
"For me it's getting to the heart of it," said Korba. "It's the speakers. They bring it all back home and talk about why you're here and why it's important where the money goes."
The event brings the community together in a new way, and MVCS welcomes everyone, whether visitor or native, to share in the joy. At 3:30pm a cocktail hour will begin the festivities at the Winnetu Oceanside Resort in Edgartown with a special lemonade-themed cocktail and mocktail offered by the Martha's Vineyard Distilling Company. A speared oyster bar and music from the Joanne Cassidy band will accompany these beverages.
"Julie Fay said last year that there's a sparkle to it [the auction]. And that's true, there's something that's really magical. I can close my eyes and feel the spirit and the joy," said May. "I think it brings out the best in people. To me it really shows how we're all so committed to the community. Visitors come too. It's heartwarming."
The Possible Dreams Auction provides the chance for everyone to have his or her dream come true. While bidding on once-in-a-lifetime experiences, your money is sure to bring about better experiences for others.