By Colin Stoecker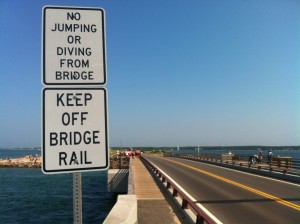 As everyone already knows, the movie Jaws was filmed on Martha's Vineyard, MA back in 1975, but along with the movie, whose sequels just never seemed to best the original, the American Legion Memorial bridge from the film is still an infamous landmark on the island.
Dubbed "the Jaws bridge," the wooden two lane bridge with a small bike path, benches and walking area on both sides sits just 12-15 feet above the salty water on Beach Rd. This bridge is the dividing line between Edgartown and Oak Bluffs, with one side of the road-sign reading, "Welcome to Edgartown" and the other side, "Welcome to Oak Bluffs." I guess it's all which side your standing on.
As you approach to see a cluster of shirtless tourists in line waiting to jump into the water, right behind them is a road sign that reads, "No Jumping or Diving from Bridge" and below it, "Keep off Bridge Rail."
But this doesn't seem to phase anyone, as the Jaws Bridge Jump Serves as a sort of "summer rite of passage" for many tourists visiting the island, on a sunny day people of all ages can be seen jumping, flipping, hesitantly falling, and belly flopping off of this wooden railing precipice at all hours of the day. Cars even honk in acknowledgement as they drive by, because everyone knows that this is a perfectly acceptable thing to do and a requisite when visiting or vacationing on Martha's Vineyard.
Be careful not to go at low tide, as the water is not that deep beneath all points of the bridge, and your feet might even touch the sandy bottom. You may want to wait for high tide also as the fall may be a few feet shorter.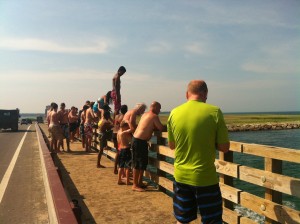 Basically, you just have to hold your nose and jump. Its always the hesitant ones that can't seem to make the drop and then convince themselves that this wasn't a good idea in the first place. But once your in the water, the continuous current carries you slowly out to sea. And you can swim to the rock jetty on either side of the bridge and crawl back to the top for round two!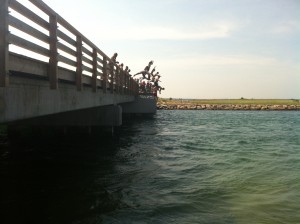 Also, a great place to sit and watch the tourists do belly flops and wipe outs is from the rocks on either side of the bridge. During low tide, this is a lot more fun and there is a lot more space to sit, on the exposed rocks, be careful, because some of them are covered with slimy and slippery green seaweed.