Entire Island in 2 1/2 Hours
by Elyse Brightman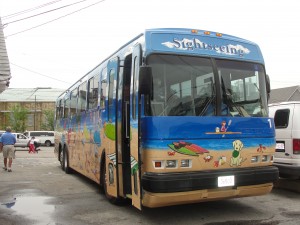 Trying to see all six Vineyard towns in one day isn't easy. Luckily, Island Tours has it covered.
With multiple pickup locations, Island Tours travels the whole island in two and half hours and has one half hour stop in Aquinnah at the Gay Head lighthouse for lunch. Pick up locations are near the Steamship Authority terminals in both Vineyard Haven and Oak Bluffs. Tickets are sold on the ferries, in the terminals and by the docks at Oak Bluffs marina.
The whole tour is narrated live by the drivers who are knowledgeable of island facts, history, famous people and everyday occurrences. Customers will travel by and see all notable landmarks and locations. Tours leave around 9 a.m. through 3:30 p.m. and correspond to ferry arrivals, so it's perfect for people making day trips to the island.
"We can range anywhere from one hundred people to three hundred people per day," says ticket manager Gus Schroder, "and our drivers are well versed in island culture."
Schroder, who spends his winters in Arizona, has worked with Island Tours for the last 20 years and is always amazed at the diversity of people who take the tours, "We meet people from all over the world," he says.
The number one questions for drivers are usually "where was Jaws filmed?" and "where is Chappaquiddick Island?" which are both seen on the tour. Another popular component is seeing houses once owned by famous people, though exact locations are not given out.
Schroder recalled years ago when they used to point out Ted Danson's house. Danson asked them to stop for his own privacy, but the next day the Vineyard Gazette ran a map telling exactly how to get to the house. "It was really pretty funny," he said.
Many locals praise the job Island Tours does and recommends them to visitors, "We have several people who are islanders who have guests and want us to show them around."
Four new coach buses were just added to their fleet to make the trip much more comfortable to some people, though others prefer the exoticness of the school buses.
Tickets are $33 for adults and $14 for kids, and group tours, charters and special events are available at a discounted rate. No reservations are required.
Don't stress about choosing what to see on a limited visit, see it all while sitting back and relaxing and still have time to go to the beach after.