New Flavors, New Chef and a New Menu Mean New Experiences Await Diners at Island House Bar & Grill
by Diane Alter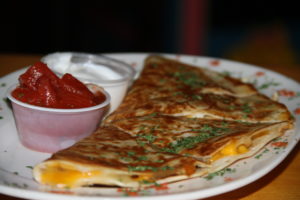 The best find among the throng of unique boutiques, souvenir shops and ice cream parlors on lively Circuit Avenue in Oak Bluffs is the Island House Bar & Grill.
Snuggled between a multitude of active establishments that draw a swarm of visitors day and night, Island House Bar & Grill calls 11 Circuit Avenue home.
An island fixture for years, the restaurant has undergone a delightful makeover. Interested and affected by the swarm of cooking shows and innovative trends in the food space, Island Bar & Grill owners took action. In launching a new menu and hiring a skilled chef, Island Bar & Grill has made a successful transition from heavy on the fried food to dishes that are divine.
Culinary school trained Andi Jones, who boasts a lengthy and impressive resume, mans the Island House Bar & Grill kitchen. Well aware that locally sourced, fresh and healthy foods are the hallmark of any truly successful kitchen, Andi has brought tried-and-true new recipes to the Island House Bar & Grill. As a result, the dining establishment has gone from one that mainly catered to a bar crowd to one that now entices discriminating diners.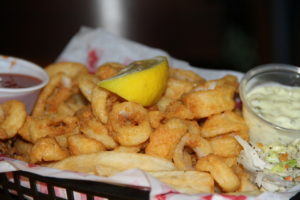 Expect a lot of everything. Yet expect everything to be fresh and fantastic.
Crowd favorite items, like burgers and fish sandwiches, remain. But some major changes have guests saying wow to these menu staples. Burger meat is rolled fresh every day and the generously portioned patties are cooked on a flat grill to release flavor and seal in moisture. Seafood is off-the-docks fresh. And produce is delivered daily from local purveyors. Everything on the menu has a newness to it.
Try the Circuit Avenue Shrimp for an appetizer. Marinated in Cajun seasonings and served with homemade Cajun dressing, this bright, colorful and aromatic shrimp dish explodes with flavor. At lunch, try the Crab Cake Wrap, Lobster Roll and Philly Chicken Steak.
Dinner offerings range from New York Strip Steak to Chicken Parmesan to Fisherman's Platter. A new addition is the Lobster Quesadilla, which has already become one of the restaurant's top sellers. Stuffed with fresh sweet lobster, grilled with piquant Monterey Jack cheese and topped with Island Bar & Grill zesty salsa and rich sour cream, this excellent entrée item is a people pleaser.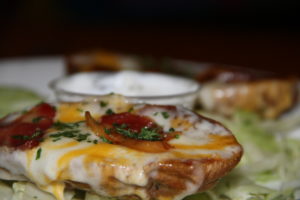 While Island Bar & Grill has gained new found respect as a top Vineyard dining establishment, it still remains a favorite spot for nightlife. A cache of specialty cocktails, a reserve of wonderful wines, and a bevy of beer options are available. Craft beer choices include the island's own Bad Martha Seasonal.
A revamped Island Bar & Grill, where fresh and different are treasured and embraced, may just be MV's most assured and satisfying new dining experience this season.
MORE INFORMATION
11 Circuit Ave, Oak Bluffs
(508) 693-4516
islandinn.com