Take the Family to Island Cove Adventures for a Rousing Round of Miniature Golf and a Try at Rock Climbing
by Diane Alter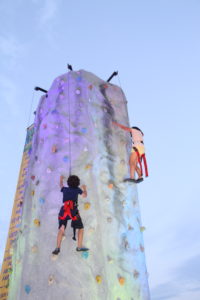 As sure as the weather warms and shorts and sandals replace sweaters and galoshes, tourists come to Martha's Vineyard for its beautiful beaches and easygoing atmosphere. While on the island, many visit Island Cove Adventures for some good family fun.
Located at 386 State Road in Vineyard Haven, Island Cove Adventures has one of most charming adventure-themed miniature golf courses. The course includes waterfalls, a cave, fountains, streams, a fish pond and colorful foliage. Navigating around this spectacular 18-hole golf course is truly like puttering around paradise.
The lower nine holes are handicap-accessible. A quaint bridge on the course acts as a channel for disabled players to loop around and play back through the nine holes for the fantastic 18-hole experience.
Island Cove Adventures does not like to name drop, but a growing list of celebrities and high-profile personalities have experienced playing the course. The Clintons have been spotted here and the Obamas were frequent visitors during their summer stays. You never know who might be putting ahead or behind you.
While the miniature golf course is its key attraction, Island Cove Adventures' rock climbing wall attracts plenty of thrill seekers.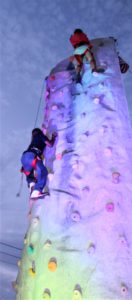 The 24-foot high mobile climbing wall offers three degrees of difficulty to accommodate beginners, intermediate and advanced rock climbers. The exciting structure has a patented auto relay system powered by hydraulics. This safely supports climbers as the conquer the peak and then repel to the ground.
First timer rock climbers can take comfort in knowing Island Cove Adventures' skilled staff is ready to provide instruction and guidance. Safety is a top priority for all at all times.
After playing a round of golf and celebrating your rock climbing adventure, stop by Island Cove's snack bar. Don't be
fooled by the term "snack bar." The burgers and ice cream served here are among MV's best known food secrets.
More information about times and rates can be found at www.islandcoveadventures.com.
MORE INFORMATION
386 State Rd, Vineyard Haven
(508) 693-2611
islandcoveadventures.com