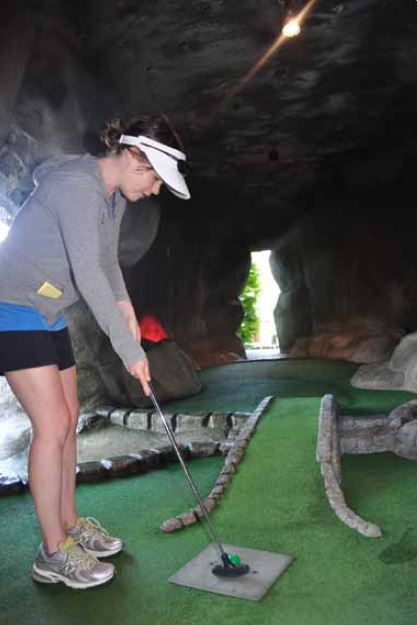 By Hayley Smith
In 1992, Ray and Mary Gosselin opened a mini-golf course in Vineyard Haven. Twenty years later, the couple still provides fun and adventures for the entire family. Filled with colorful foliage, nautical adornments, fountains, streams, a fish pond, a waterfall, a cave, and even a misting station, Island Cove Adventures is probably the cutest mini-golf course you'll ever see. It truly is a little piece of paradise.
Mary agrees. "When you're out there you'd have no idea you're on State Road," she says. But, in fact, you are. Conveniently located in Vineyard Haven and complete with an outdoor grill, an ice cream shop and a 24-foot high rock-climbing wall, Island Cove Adventures offers fun and entertainment for people of all ages.
As you golf your way through the course, you'll pass fountains, journey underneath a cave and through a waterfall, and pass a misting station to cool you off around hole 15. Once your game is complete and you return your golf club to one of the employees, let him or her know if you made a hole-in-one. If you did, they'll give you the chance to win a free round of golf. They will present a bucket full of 18 golf balls, numbered 1 through 18. If you pick the #1 ball, they will give you a pass for a free game next time you stop by.
Island Cove is perfect for group gatherings and events—just ask the Clintons and Obamas, both of whom have played the course in past years. Even in the rain, Island Cove Adventures can make any party enjoyable. "One of the best days we've ever had here was a birthday party in the rain," says Mary. "The kids wore their bathing suits and had a blast running around on the course."
The Gosselins also love spicing things up with special offers and events. For example, if you go on any Friday this summer, make sure to keep your eyes peeled for free passes hidden around the course. To learn more about these types of events, you can 'Like' Island Cove Adventures on Facebook and learn about their updates regarding events and special promotions.
Whether you want to stop by for a quick round of mini-golf or spend an afternoon and buy a whole package, Island Cove Adventures has plenty of options to suit everyone's needs. They offer a full package, which offers a round of mini-golf, a climb on the rock wall, a meal with a drink, and ice cream for $22, and a half package, a round of mini-golf, a meal with a drink, and ice cream for $18.
"I haven't been mini-golfing in such a long time," says 21-year-old Heidi Hummel, a new Martha's Vineyard visitor. "I forgot how much fun it is," she adds. "You can just goof around with your friends on the course. It really is great for all ages, not just kids." So stop by any time from 10 am to 10 pm and celebrate twenty years of mini golf fun—it's a guaranteed fun-filled day for everyone.
Island Cove Adventures
386 State Rd, Vineyard Haven
facebook.com/IslandCoveAdventures
(508) 693-2611 | islandcoveadventures.com