by Natasha Heinz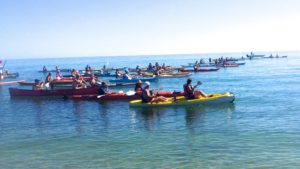 If you are looking for something fun to do for a good cause we have just the thing for you. Sunday August 27th marks the 26th year for the Oar & Paddle Regatta and its always a great time. And hey, all the money you help raise will go to keep the water you are in cleaner. What could be better right?. Just head down to State beach, first bridge for the 26th Annual Oar & Paddle Regatta.
The classic event is a fun 2-mile competition for all ages and abilities. It is free to attend. But if you are feeling competitive, you can also sign up for the race.
The competition is includes categories for paddlers, kayakers, paddle boarders, swimmers, rowboats, canoes, kids race and even paddling with your dog.
The registration fee of $35 includes use of a kayak or stand up paddle board, post-race BBQ, medals and T-shirt. That's a whole lot of fun for doing a good thing for the island waters.
Island Spirit Kayaks will be there to help you and insure you have the equipment you need to enter the competition so don't worry if you forgot to bring yours or if you never even tried it.
What are you waiting for? Register now at www.islandspiritkayak.com or call (508) 693-9727.
Same day sign in on August 27th starts at 8:30 a.m. The race begins at 10 a.m. at Little Bridge, Sengekontacket Pond, Oak Bluffs.
Parking available on the streets. For hassle free parking take Bus 13 from Edgartown, Oak Bluffs or Vineyard Haven.
The event is organized by the Martha's Vineyard Oar & Paddle Association. Island Spirit Kayak is the event sponsor. All proceeds are donated to The Friends of Sengekontacket for cleaner waters.
MORE INFORMATION
26th Annual Oar & Paddle Regatta
Sunday, August 27, 2017
Sign in: 8:30 – 9:30am
Race begins: 10am
Oak Bluffs Beach
www.islandspiritkayak.com