Strike Alpaca Gold with Island Alpaca
By Shannon Hurley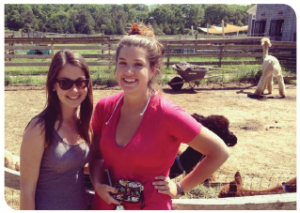 Quietly tucked behind the trees, away from the busy beaches, removed from the sidewalks teaming with vacationing crowds, sits Island Alpaca, a meadow-soaked alpaca farm bursting with up-island agricultural charm yet conveniently located down island in the town of Oak Bluffs. Follow the gentle humming and scent of sweet hay down a dirt path to find the fleecy herd grazing outside the barn, ready for visitors.
A working alpaca farm, Island Alpaca lets visitors get up close and interact with their fibrous and friendly livestock via self-guided tour, providing individual, personalized experiences and ensuring a relaxed, though educational, visit for all ages and interest-levels. Beyond the pastures stands the barn, an old wooden structure relocated from Pennsylvania. In the barn, alpacas seeking shade provide the backdrop for an Alpaca Gold stand. Alpaca beans are an excellent natural fertilizer for flower and vegetable gardens and can be purchased at the farm. Photo albums highlighting the farm's and its herds' history dot the pathway into the shop, full of locally grown and knitted products.
"One thing that I think is neat about our store is that we have yarn with the picture of the alpaca that it came from," says Barn Host Caroline Warren, "so visitors can meet the animals that their product came from."
What alpaca beans do for plants, alpaca fleece does for style. It's natural luster gives garments great drape, elegance and style together with an outstanding handle, not to mention its durability. Forgo a pre-made piece for alpaca fleece that can be purchased for the home-knitter. And spend more time with the alpacas, out back in the yard surrounded by canopied lazy livestock, picnic tables, and natural views.
While sand and seafood are sure to be a priority for any Vineyard visit, take time out for Island Alpaca; it's more than just breeding, boarding, and gifting. It's a fun and affordable way to experience the local, agricultural side of the Island.
Meet a Barn Host
Caroline Warren is a barn host at Island Alpaca. As a host, Caroline cares for the livestock on the property, runs the Junior Discovery programs, and is available to visitors as a skilled information source ready to answer anything alpaca.
TW: What's your typical day like at the farm?
CW: "Cleaning out the barn, calling the animals in, feeding them a beet pulp and grain breakfast and supplying them with fresh water and hay throughout the day. [Being] available to all guests to tell them about our alpacas and answer any questions that they might have. At the end of the day, I'll feed the alpacas grain and let them out onto a pasture for the night."
TW: What makes Island Alpaca different from other alpaca farms?
CW: "Our Junior Discovery Program! We allow children of all ages to get to come over the other side of the fence and help out with the morning chores.Participants will learn the basic care for these animals by getting to feed the animals, learn how to harness and walk some alpacas, and sometimes get to see a birthing if they are lucky! This is something that I believe that not many alpaca farms offer to the public."
TW: What's a must when visiting the farm?
CW: "Check out our farm store! We have a variety of alpaca products, from toys to fine clothing. Alpaca fiber is hypoallergenic and is four times warmer than wool, making their products perfect gifts for anyone! We always have sales going on so it is definitely a must do."
FIBER FACTS
*Referred to by Incans as the "Fiber of the Gods."
*Soft as cashmere.
*Warmer, lighter, and stronger than wool.
*Thermal insulator; absorbs ambient humidity.
*High tensile strength and elasticity; durable.
*Will not burn unless in direct contact with a flame.
*Comes in 22 colors recognized by the textile industry; more than any other fiber producing animal.
*Shorn in Spring, average yield of 4-5 pounds of fiber per alpaca.
More info:
Island Alpaca Company
1 Head of Pond Rd, Oak Bluffs
508-693-5554
www.islandalpaca.com
Open Daily, 10am to 5pm
$5 admission (cash) from May to October 29
Free Parking, off VTA bus route.
Leave pets at home.
2013 birthing season: June to late August