Island Adventure Provides Island Visitors with a Fun Way to Travel the Vineyard
by Shannon Corcoran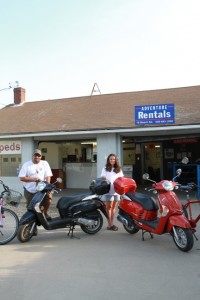 Imagine this; you're riding along the one of the vineyard many roads with gorgeous views of the beach. There isn't a cloud in the sky and the breeze from the water is giving you that perfect amount of cool air on your skin.
Right now, you're probably thinking that such a thing is only possible in your dreams. However, you can make your dream come true by stopping at one of Island Adventure's four locations on the vineyard and renting your very own moped.
Located in both Oak Bluffs and Vineyard Haven, Island Adventure offers moped, car and bike rentals for visitors that want to see the vineyard through a whole new perspective. With its friendly staff and central locations just a short walk from both ferry terminals visitors are sure to find a location and mode of transportation that will fit their needs.
"Seeing the vineyard by bike or moped is way more convenient than traveling around by car," said owner Jason Leone. You don't have to pay a ton of money for gas or worry about finding a parking spot, which as locals will tell you, is always impossible. It's also a bit slower paced than driving, meaning you'll notice things on the side of the road that most people traveling in cars won't.
Yes, we know, the idea of moving so slow can be a turn off, but remember, you're on vineyard time. Embrace it.
The rental process is easy; just head over to one of the locations and talk to one of the staff members. Keep in mind that mopeds usually run out quickly and require a license to drive, so if you want to rent one, be sure to get there fairly early. Once you're there and sign the waivers, you'll be given a training session designed to teach you how to drive safely and after that you'll be good to go. It's really that simple.
So, what are you waiting for? Go check out Island Adventures and take in everything that Martha's Vineyard has to offer. If you aren't sure where to go, don't fret. The friendly staff will give you plenty of maps and recommendations of places that you will love. However, don't be afraid to wander and let serendipity take over and lead you somewhere incredible. There really is no wrong way on Martha's Vineyard.
Contact Info:
19 Beach Rd, Vineyard Haven, MA 02568
(508) 693-1959