The Vineyard Sound Sings to New Heights
by Ashley Amato
Some sit mesmerized while others can't restrain the urge to groove back and forth to the beat. This is a place where children finally sit quietly with their faces aglow. Front and center is a group of young men donned in a rainbow of pastels. They call themselves The Vineyard Sound and they represent a longstanding tradition on the island. This acapella group gives no ordinary performance, so don't even try to restrain the smile that will spread across your face.

"In 1992 a bunch of friends from Skidmore College, Wesleyan University, and Connecticut College came together because they knew each other from different walks of life. They decided to see if they could make any kind of a profit singing," explains Ethan Underhill, business manager.
Sitting down for a show is like becoming part of the The Vineyard Sound family. This singing bunch shares a closeness that is spread straight into the audience. While synchronized dance moves will make you laugh, they have been known to cause their audience to shed tears.
Underhill says, "The original group passed it on to a new generation of guys from their respective schools and that's how it's worked ever since. One day you are at the gym, in class, or eating a meal, and you get a call that says 'Hey, how would you like to sing a cappella for a summer?'" "All of us sing in our respective groups at school, so that's how we come to know about The Vineyard Sound. We always find ten guys who want to come to the Vineyard and sing for a summer."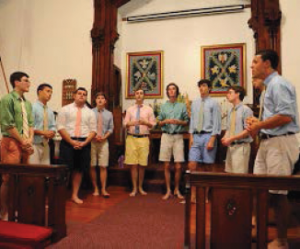 From oldies to contemporary music, The Vineyard Sound arranges compositions the whole family can enjoy. "The music director will pick songs that they want the group to do and then we will audition within the group for who will solo it. The other nine guys will learn the background part. We rehearse it until it's right and then perform," informs Underhill.
Look out for the pastel- wearing bunch around town because you might just be able to catch one of their impromptu street performances. This dynamic group contains a magic that ripples through the music they share. "Since we started out in '92 we have split a house ten ways. We live together, eat together, sing together. It makes for many a story."