Check out Oak Bluff's Premier Novelty Candy Store
by James Reagan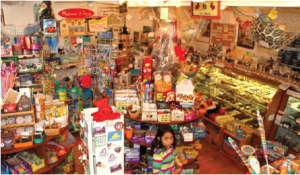 Named after the Shirley Temple song, Good Ship Lollipop has been among the premier candy stores in Oak Bluffs ever since owner Marguerite Cook opened it up in 2006. The candy store now exists as a two-for-one deal with an enormous selection of candy and a growing display of toys.
"When I opened the store, it originally started out as a novelty candy store," Cook says. "Now we've added toys and souvenirs so that the store is one kids of all ages can enjoy."
The reason behind Cook's creation of Good Ship Lollipop has to do with a bucket list wish that she could be a candy store owner. That wish would come to actuality when Cook retired and saw a picture of her mom holding a lollipop.
"It was then that I realized I had to go for this," Cook says. "Not only were there not very many candy stores in the area, but I also remembered my dream and how much my mom liked candy."
Upon entering the store, the child friendly atmosphere is readily apparent. Cook plays kids music on a tape player, alternating between Disney classics, oldies from Schoolhouse Rock, candy flavored songs, and of course, the 1934 song that is its namesake.
The bright colors of the store display candy including store favorites like Oreos dipped in chocolate, toffee squares, Baby Ruth's and melted milk balls. Hungry customers who can't wait to pay can always go to the front counter and get a free sample.
On the toy side of things, one of Good Ship Lollipop's more recent displays includes stuffed Beeposh dolls. These dolls have grown popular and the product line now includes books and CDs as well. "This wonderful product has grown into a favorite for many parents shopping for gifts," Cook shares.
Part of the reason Good Ship Lollipop has enjoyed it's success is due to its innovation and a willingness to try new things. For the month of July, Cook is planning a special Christmas in July celebration around the weekend of July 26th-27th. This promotion will include a display of Christmas decorations and some special Christmas themed candy.
"When children from 2-102 come into our store, sometimes they come in with a smile. But when they go out, almost everyone is smiling and that's what makes me happy," Cook says.
With all the sweet smells and pleasant atmosphere, it's hard not to smile in Good Ship Lollipop. Check out the store for a return to your inner childhood!
MORE INFO:
61 Circuit Ave
Oak Bluffs, MA 02568
(508) 693-0326
Summer Hours:
10:30-10:30 (daily)
Friday: 9am-5pm
Saturday: 9am-2pm