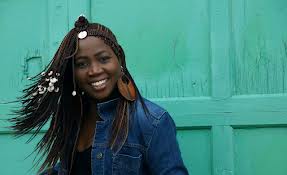 Arguably the premier concert venue on the island, Flatbread Company is a great place for any music fans to check during their time in the Vineyard. Nearly every week sees a new artist take their talents here for a relatively affordable, or even sometimes, no price at all.
This week though is set to be a little different as Thursday's artist brings a decidedly African flair to the island. Awa Sangho comes from the town of Dire located in Northern Mali and from a young age, she's found a lot of joy from making and sharing music. As a young girl, she got her musical career started by moving to the city of Abdijan and getting involved in it's music and dance scene.
Formerly a member of a performance group called L'Ensemble Koteba D'Abdijan, Awa is now mostly focusing on  her solo career. The success of her five solo albums have given her a place among West Africa's pre-eminent musicians and have also helped with international exposure by giving her the ability to go on several world tours.
During this "Afrobeat" dance party, Awa will be joined by master percussionist Daniel Moreno. For those who are uninitiated with African culture, Afrobeat is a style of music which blends funk, jazz, a percussion emphasis and chanted vocals. This dance party will see Awa, Daniel, and Daniel's seven-piece band rock the house with a catchy West African beat and uplifting socially conscious lyrics.
More info about Afrobeat and Awa's music can be found on her personal website. For a better idea on her style of music, check out this Youtube video.  
-James Reagan