Bananas Brings a Unique Flavor to The Vineyard
By Savvy Raines
Nestled in the West Tisbury countryside sits a little store with a big punch. Bananas is a funky clothing store for people who are looking for something a little different.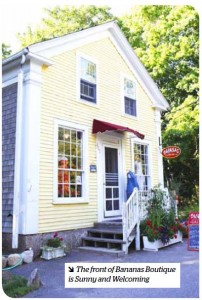 The store, which is actually a renovated house, carries women's, men's, and children's clothing, shoes, fine art and gifts. Inside the store is a kaleidoscope of colors. The walls are bright blue and clothing comes in every shade from sunset orange to pansy purple. Artwork covers the walls and some pieces are actually for sale. It is a haven for shoppers who are looking for artsy and unique products.
Owner Judy Hartford says she always hears two things from Bananas shoppers. "The things we hear the most are "I see things here I don't see anywhere else," said Hartford. And "whoever does the buying does an amazing job." Hartford then adds with a smile, "I do the buying."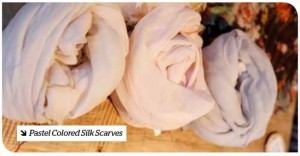 Inside the shop you will find a large selection of artsy and unusual clothing. Bananas has the distinction of being one of the few places on the island that carries James Perse collection of tops and dresses. You can find them in every style from tank tops to long sleeve. The store also carries the ultra fashionable Chan Luu bracelets, which are coveted by everyone from the rich and famous to your average shoppers. Bananas also has many shoes to choose from including FLY London shoes, which are a favorite of Bananas shoppers. They also carries an array of summer sandals and open toed shoes alike.
Hartford boasts of Bananas large base of regular customers. She says that they are on first name basis with many of their customers.
Bananas is currently in its ninth summer on the Vineyard. Nearly a decade ago it began in a renovated fruit stand, which is how it got its name. Now Bananas has risen from those humble beginnings and moved into a converted house, fittingly painted yellow. Inside, you won't find a lot of store fixtures, instead you'll notice the building has kept a lot of features of the family home. For instance the children's section is actually the kitchen.
Hartford thinks that what makes the store different is what makes it appealing. "It is very personal. It doesn't have the business corporate feel like Banana Republic or The Gap.
The things that we buy are unique and different and not things you would see anywhere," says Hartford. "We have a few things that are name brand that you would recognize but we sell a lot of things people have never seen other places. And I think the uniqueness of what we carry is what sets us apart."
Upstairs in the home is the studio of Kanda Lipsky, a local artist and yoga instructor. "She is a wonderful local person that we want to support and she supports a lot of local artists as well," says Hartford. "I think the whole idea of 'Think Local, Work Local' is very important."
Bananas has also teamed up with part time Vineyard resident and full time artist Barbara Sandson. The shop carries her fine art photography, some of which is taken on the Vineyard. Hartford says it is important to her to support local artists because the Vineyard is full of "amazingly talented people."
Be sure to check out Bananas if you are looking for amazingly unique products. You may end up "going bananas" for Bananas.