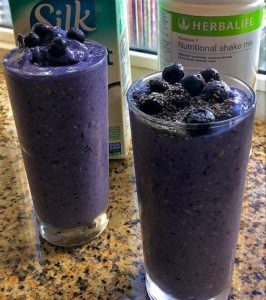 Neglecting breakfast,the most important meal of the day, is a reality for many of us. Sometimes your morning routine is simply too rushed, or maybe you're just bored with having the same breakfast, day after day… What's the solution?
Herbalife formula 1 is a nutrition shake I have been using for over a year now. Besides the fact that it contains high nutritional elements, it is a balanced meal replacement. The shake is not only delicious, it is super quick to prepare. With a variety of flavors to choose from, you'll feel inspired to take charge of your breakfast on the go. Can you imagine eating ice-cream every morning? This shake is a lot like that. It doesn't sound bad, does it?
In today's society, people have become prisoners to their bad habits and responsibilities, having a smoothie for breakfast breaks that and is a healthy and quick way to start your day. The main goal is to "give fuel" to our cells and to start our day feeling energized.
Here is one of my favorite, easy to make, smoothie ideas:
• 2 SCOOPS (26G) OF HERBALIFE FORMULA
1 COOKIES AND CREAM SHAKE
• 150ML OF ALMOND MILK
• ONE BANANA
• FROZEN BERRIES
• CHIA SEEDS
Shake your summer with a healthy yet satisfying "on the go" breakfast solution! 🙂