by Colin Stoecker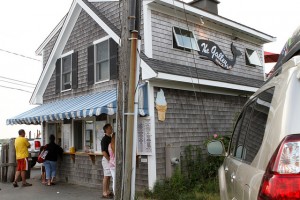 For the ultimate Up Island eats, check out the Galley in Menemsha. Surrounded by sandy beaches, the Galley is on North Road in the heart of the small fishing village of Menemsha. Its close proximity to Menemsha beach gives the Galley the ideal location for a post-swim spot to grab some of the best food as well as dessert on Martha's Vineyard.
Orders are taken at the window up front by an eager staff, while the screened window labeled "ice-cream," functions with the efficiency of a Dairy Queen. The ice cream is soft serve, but much better.
But don't be deceived by the casual and inviting look of the Galley, as there is much more to the food here than initially meets the eye. Sit in the enclosed dining area out back, while relaxing and enjoying some local fare. The food selection ranges from simple to intricate, from just a snack or kids' fare to a full spare ribs dinner, served from 5-8pm daily with fries and cole slaw.
The Angus burgers are great, and the fries are excellent too, but the lobster rolls, swordfish sandwiches, and clam chowder are the specialty here. You can't go to Menemsha without trying some seafood!
The lobster roll comes on a hotdog bun with lettuce that is filled with the claws of a lobster, the meat is pinkish red and fresh! It is also only $11, the best price for a lobster roll on the island. Get an order of golden fries to accompany the roll as these are also to die for.
They even have salads for a lighter lunch or dinner option. Cobb, Ceaser, Greek, and even tropical shrimp, with a toasted coconut almond topping are available.
Smoothies are also homemade and come in a variety of flavors to quench your thirst and satisfy a sweet tooth. Lemon and lime coolie, orange sunset, pineapple breeze, or blueberry blast are sure to compliment any sunny beach day.
The Galley in Menemsha is also the perfect place to catch a view of the sunset. If this is your first time on the Island and you're looking to catch some Up Island, picture perfect sunsets, grab some food at the Galley and head straight for Menemsha beach. Sit on the dunes or the rock jetty and watch the tide come in and the sun go down, just don't let the seagulls steal your trash!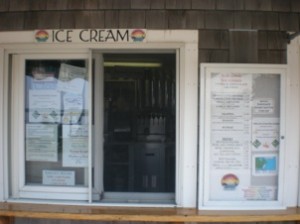 Afterwards, to settle any sweet tooth, there are floats made with the Galley's signature soft serve ice cream. The cones also feature chocolate, vanilla, and twist with dips, chocolate, cherry, peanut butter, and peppermint.
The view from the back deck dining area at the Galley is an amazing place to share a moment with friends and family on the wooden benches out of the elements. Relax while enjoying a great view of the fishing boats and unique seaside community of Menemsha.