by Natasha Heinz
From coast to coast, a cache of U.S. cities host monthly First Friday events where guests meet local artists, designers and craftspeople and learn about their most recent works. This summer,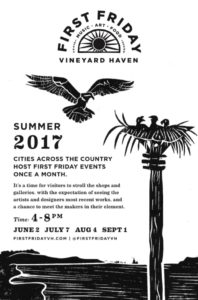 Vineyard Haven is joining the fray to celebrate the arts and community. Upcoming date are July 7, August 4 and September 1.
Islanders and tourists can enjoy live music at Owen Park, as well as three side street locations from 4 p.m. to 8 p.m. Shops and sidewalks, meanwhile, will host artists' pop-ups. Galleries in town will have special guest openings.
"First Friday events celebrating the arts are held in a lot of cities all over the country, so I thought we should have one here," explains organizer Althea Freeman-Miller.
VH hosted its first "First Friday" of the season on June 2. Some 25 artists participated. The July 7 event is expected to attract close to 50 artisans. All of the vendors from the first edition are coming back and new participants have committed to join the festivities.
"It was just an idea that I had and it ended up working," declares Freeman-Miller.
The July 7 event will feature three bands at Owen Park. They are a kids rock band called Jellybone Rivers and the Maniacs of the Heart; surf rock act Hammerheads; and Space Invaders. From 5 p.m. until 7 p.m. guests can enjoy the music with free ice cream compliments of Murdick's Fudge.
For all artists and vendors, visit the First Friday of Vineyard Haven website.