Create Your Own Adventure at Felix Neck
by Shannon Hurley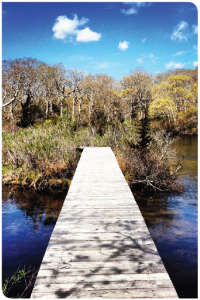 Get out in the sun and into the woodlands, stroll the meadows, explore the ponds and salt marsh, comb the shoreline and take in the 4 miles of spectacular trails at Felix Neck Wildlife Sanctuary. You'll be surrounded by natural landscape, protected native wildlife, salty fresh air, and, if you're lucky, spot a nesting pair of ospreys or area raptors hunting their prey.
Down a narrow dirt road you'll find the Mass Audubon sanctuary's Nature Center nestled in a clearing just past the Butterfly Garden, a fun patch of growth enticing hummingbirds and butterflies alike. Pay admission and it's your choice from there: learn about nature at your own pace or get involved in a guided or self-guided program. Hang out in the Discovery Room or check out the Owls in Residence. It's up to you.
"With all the different programs we offer, guided walks, kayaking, nature crafts for kids…there is really something for everyone," says Josey Kirkland, Education Coordinator and Camp Director at the sanctuary. Whether you're adventuring on a student-created Quest, searching the shoreline for shells, crabs, snails, or birding, the serene tranquility of the natural world will envelope you.
"It's such a thrill to be able to educate the community and visitors about the natural world," says Kirkland, "it is something that we all have in common, something that we all have access to in some capacity." And with access to 350 acres of pristine natural habitat, the educational opportunities are endless.
Boasting Major's Cove on Sengkontacket Pond, Turtle Pond, dramatic views of State Beach, freshwater bog, sandplain grassland , shaded groves of pitch pine trees, and cattails, there isn't much the preserve does not offer. Stargazing, canoeing, snake walks, naturalist-led sunset hikes. All age and activity levels are satisfied. You might even forget you're in a tourist mecca.
"I wandered the trails for so long and was so unbothered that I forgot I was down island, just a short drive from Edgartown and Oak Bluffs," says Janaye Rooney, sanctuary visitor and island resident, "it was really nice to get away and be with nature without having to drive too far up island."
Did You Know?
Through mowing, clearing, and grazing, Felix Neck is restoring 4 acres of sandplain grassland that will provide habitat for groundnesting birds like Bobwhite and Woodcock. Grasslands are maintained to encourage Eastern Bluebirds and Tree Swallows and provide a nesting site for a pair of Osprey. Two owl boxes: one in a field and one in a dormer of the Nature Center.
Admission: $4 nonmembers, $3 nonmember children (2-12), seniors. Free for members. No pets, please.
Nature Center Hours: M-F 9-4/Sat. 12:30-3