With the Vineyard Transit Authority, You Can Go Anywhere on the Island Without Having to Worry About Finding a Parking Spot
by Natasha Heinz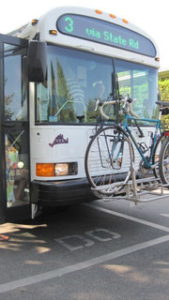 One fish, Summer is at its peak and the Vineyard is packed. There are traffic jams in every city and finding a parking spot is close to impossible. So, here is a tip: leave your car in the garage—or, even better, on the continent—and take advantage of the Vineyard Transit Authority system.
The 14 routes will pick you up at innumerous stops all over the island and take you where you need to go, no need to worry about anything other than relaxing.
"Choosing to ride the VTA is a good idea because it is cost effective, clean, safe and reliable", explains VTA Deputy Administrator Lauren Thomas. "It also helps to mitigate traffic congestion on the already crowded roads", she reminds.
Check some tips from Thomas and This Week on how to best ride VTA:
COST EFFECTIVE
You can purchase a ticket inside the bus or before hopping on. If paying the fare on the bus, make sure to have exact change, because the farebox does not give money back, only stored value cards that can be used on future rides. Passes can also be purchased from Ticket Sellers at the Vineyard Haven Steamship Bus Circle, Ocean Park in Oak Bluffs, and Church Street in Edgartown. To find them, look for the people wearing purple VTA shirts.
One-way fares are $1.25 per town, each way, including town of origin. Day passes are $8.00 and allow for unlimited riding on all routes for the day. VTA also offers 3 Day Passes for $18.00, 7 Day Passes for $30.00, 31 Day passes for $60.00 and Year-round passes for $140.00.
CLEAN
Do not bring your ice cream into the bus, no food and open container beverages are allowed at any time.
Your pets, on the other hand, are welcome! But make sure they are on a leash or in a carrier.
SAFE
If bicycles are your first mode of transportation around the island, the VTA can help you get even farther by carrying it to distant places. The buses have racks on the front that can carry two to three bikes on a first come, first served basis for no additional charge. When the bus stops, open the rack, put your bike in, lock it, and go! If your bike is the last one out, do not forget to close the rack before you leave!
Strollers (when folded) and luggage are also stored in a rack inside the bus or under the seat. No need to walk around carrying your bags or relying on private rides.
RELIABLE
Most major stops (the ones where you find Ticket Sellers) have schedules for all the buses that go through there. However, VTA also has an app that helps you track your bus and find out when the next one is coming. Check their website to find it. In the middle section of this paper, you will also find a printed schedule and map of every bus around the island.
WHAT ELSE?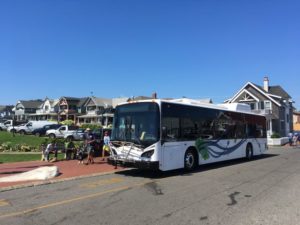 Bus stops are usually marked by signs with the number of the bus that goes by. However, if you cannot get to the stop, buses can usually be flagged along the routes. Exceptions are:
– Route 13 along State Beach has two stops: Big Bridge and Little Bridge, since the bus can't stop anywhere else along the beach
– Route 1 along the Edgartown corridor can only drop off and pick up at posted stops
– Going into Edgartown (Routes 1, 6, 8, 11 and 13), the last stop before Church Street is across from the jail; leaving Edgartown the first pick up/drop off would be at the jail.
– Going into Oak Bluffs (Routes 7, 9 and 13) the last stop before Ocean Park is at Sunset Lake; leaving Oak Bluffs going towards Vineyard Haven the first drop off/pick up is Our Market
– Going into Vineyard Haven (1, 2, 3, 10, 10A) the last stop before the VH SSA is at the top of Main Street (by Educomp), which is also the first stop when leaving the city
Did you know that you can see most major touristic points of the island in one day with the VTA? Check the "How to See the Island in One Day" itinerary available on their website and plan your day!
MORE INFORMATION
(508) 693-9440
vineyardtransit.com