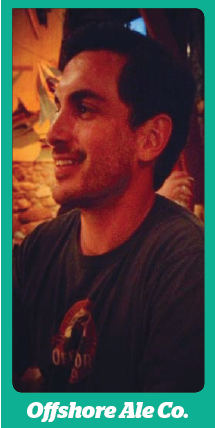 Q: How did you end up on the island?
A: My grandmother's from here, spent my summers here, and moved here 8 years ago after I broke my leg and needed to pay bills.
Q: Favorite drink?
A: Vodka Tonics
Q: Favorite bar to go to when you aren't working?
A: Brick Cellar Bar [Edgartown]
Q: Favorite drink to serve at work?
A: A cold tall one, like a Hop Goddess.
Q: Funniest bar story?
A: Someone crashed a moped into a tree outside and in the confusion a patron ran inside screaming that the rider's head had fallen off. It was quite a commotion. Luckily, no one was actually hurt.
Q: Have you met any celebrities while bartending?
A: Alan Dershowitz, Amy Brenneman, and of course, Mike Benjamin.
More info:
Offshore Ale Co.
30 Kennebec Ave.
Oak Bluffs, MA 02557
508-693-2626