From Beach to Market to Home!  Let Edgartown Meat and Fish Market Do the Hard Work
By Shannon Hurley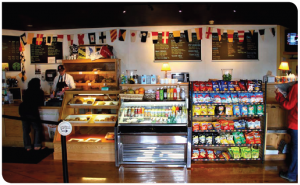 You could really use a latte to get thru that afternoon slump and get ready for tonight. Your friends want snacks, quick. No one's planned for dinner beyond the invites, and the cabinet's looking pretty bare. Scramble across the island, hope you can please everyone and pull it together? Or you could make just one stop at Edgartown Meat and Fish Market and cross off all your to-do's.
"We really designed this place to be kind of a one stop shop," says co-owner Sean Ready, "Instead of running one place to get fish, one place to get burgers, one place to get beer and wine, [you can] get everything in one fell swoop."
Located in Edgartown's Post Office Square, the family owned and operated market is open year-round,
providing visitors and locals alike with gourmet grocery items, an ample collection of beers and wine, fresh prepared foods, produce, handmade sausage and ground beef, steaks, and specialty burgers, fresh local and international seafood, as well as Starbucks coffee and baked goods prepared daily in-house.
"They come in for 5 or 10 minutes and they're out of here, they're spending more time with their guests, their kid(s)," says Ready, "especially if you're renting a house, the last thing you want to do is get
off the beach and cook for like 4 hours."
In addition to more marinated meats and fresh fish this season, the market is introducing a Raw
Bar as well as a Sushi Bar. "It's just nice to offer fresh things for people and we wanted to incorporate that into the store," says Ready, "we make all the sandwiches fresh, we cut all the steaks fresh everyday, so we really just wanted to expand upon that."
And fresh it is. The market marinates, grinds, and cuts daily. Quality is not overlooked. "All beef is antibiotic and steriod, hormone free, which is important," says Ready, "it's all really high grade meat." Chicken is from New Hampshire and all natural. You won't have to worry about what you're feeding yourself, your family, or your guests. Because if you did, the market wouldn't put it out.
Whether you're stepping off South beach or ready to unwind after a day of shopping along Edgartown's
quaint cobblestone sidewalks, Edgartown Meat and Fish Market should be your only stop before hitting the comforts of your Vineyard home away from home.
Sushi Bar
Open 10 am to 8 pm, daily.
Made to order or prepackaged
(fresh that morning) to-go.
Creations by Chef Michael.
Raw Bar
Open 10 am to 8pm, daily.
Choice of shellfish to be
shucked in front of you.
Take it to go or eat it there, it
doesn't get fresher.
Deli and Café
Open 6 am to 8 pm, daily.
*Sandwich station closes at 5 pm.
Prepared sandwiches and
salads, baked goods baked inhouse
daily (baquettes, kaiser
rolls, bagels). Brew Starbucks
coffee, espresso drinks (Frappuccinos
coming soon!). Cash, check,
or charge.
Plenty of parking!