Indulge your inner foodie at the Cliffs
By Shannon Hurley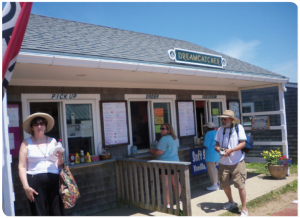 The sound of home cooking and aroma of tasty treats emanating from the Dreamcatcher Snack Bar envelop the protruding red and orange cliffs of Aquinnah, home to the island's oldest inhabitants, the Wampanoag Native Americans. Meaning "land under the hill," Aquinnah boasts a serene seascape, vigilant lighthouse and a rich history that can only be found at this popular Up-island destination.
The love and dedication for land and family historically exemplified by the Wampanoag tribe is personified today in the hard work and wholeheartedness of Dreamcatcher Snack Bar owners Gordon Perry and Dona Mazza.
"I think for a small place people are always surprised it is so good," says Mazza, "they expect fast food but just mediocre food."
Open for lunch daily, Dreamcatcher Snack Bar offers a plethora of taste bud-friendly cuisine that won't break the bank. Whether you're in the mood for seafood, I would suggest the drool-worthy lobster rolls and coconut shrimp with mango chutney, or would prefer traditional diner fare such as chili-cheese dogs and hot wings, the menu will not disappoint.
"I decided that when we were going to open that we weren't going to serve to the public what we wouldn't serve ourselves," explains Mazza, who goes to great lengths to select the best components for each dish. "We didn't go bottom of the barrel."
That not only means using Pepperidge Farm breads and fresh ingredients but utilization of separate fryers
for different foods and regular changing of cooking oil.
"Clean grease and fresh ice cream makes repeat customers," says Perry, "I want people to get their money's worth."
Entering their tenth summer of service the Perry's continue to work the kitchen as an unstoppable two-person team that takes pride in what they put in the mouths of both the resident and visiting communities.
"Even though it's a little place I want them to have a pleasant experience, I want them to like the food, remember it and come back the next year," Mazza says, "if we get to a point where we don't care anymore and we're just about making money then we gotta try something else."
And while they aren't trying something else, they are trying something new. Beginning in July, the diner will serve dinner until sunset on Friday and Saturday nights. "This is the first time we've tried the dinner thing," says Mazza, "but we want to see what kind of traffic we get."
So whether you're here for a quick look at the view or are spending a weekend immersed in the Wampanoag history and beliefs evident in the colorful sediment layers of the Aquinnah cliffs, packing a meal won't
be necessary as Dreamcatcher Snack Bar is a must-eat pit stop on any visitor's agenda.