Island Charms for Off-Island Prices
by Elyse Brightman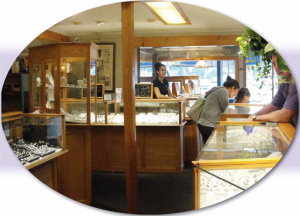 Charms of Martha's Vineyard, lighthouses, shells, and town signs are the perfect way to remember a family trip to the island. For 27 years, the appropriately named Dockside Jewelers at the Dockside Marketplace has sold Martha's Vineyard jewelry along Oak Bluffs Harbor.
The island charms are designed by owner Steve Davidian, and he just came out with five new ones for this year. "My goal is to be alternative," says Davidian, who stays away from designer brands to keep the prices reasonable and the styles varied.
Davidian opened Dockside Jewelers in 1986 after selling jewelry on the New Bedford ferry before finding his place in Oak Bluffs. His charms specific to Martha's Vineyard sets him apart from the rest. Customers can choose from town signs from any of the six island towns, lighthouses, flip flops, shells, and even a charm in the shape of the island itself. The selection gives vacationers the chance to remember their time exactly as they want. "I'm lucky to be doing what I love in a place that I love," says Devidian.
When he's not in store, Devidian is traveling the country attending shows hand selecting all the jewelry he sells in his store. His selections keep the prices down and the styles original. Dockside Jewelers offers jewelry made from 14K gold, sterling silver and natural stones to fit everyone's fashion needs. There's also a selection of Wampum jewelry made from the sea shells found around the island. Head over to Dockside Jewelers and pick up a perfect souvenir or gift to commemorate a vacation to Martha's Vineyard.
MORE INFO:
Dockside Marketplace on Oak Bluffs Harbor
Open 10 am – 10 pm
508-693-3644