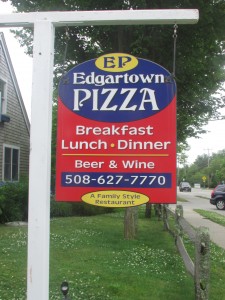 by Shannon Corcoran
Co-owner and one of the head cooks of Edgartown Pizza, Danny Segal is passionate about creating unique relationships with every diner that walks through the doors of his restaurant. From the moment the customer comes in, to the moment they leave, Segal makes sure that he does everything that he possibly can to make them feel welcome.
Along with making sure customers receive great service at his eatery, Segal also spends time cooking delicious food at an affordable price. Though the name implies serving only pizza, that's the farthest thing from the truth; Edgartown Pizza has a menu that includes unique hamburgers, as well an extensive variety of sandwiches and other grilled American fare. With Segal and his fellow co-owner, Chris White working their hardest to create new menu items and please diners, the future for this restaurant only looks brighter.
TW: How long have you been living and working on the island for?
DS: Ten years.
TW: When did you start cooking?
DS: I've been cooking since I was a kid.
TW: What is your prior experience?
DS: I owned a restaurant in Israel with a menu similar to Edgartown Pizzeria.
TW: Do you have a dream cooking job, if so what?
DS: I don't. I love what I do too much to give it up.
What's your favorite meal to cook for yourself?
DS: I love to cook teriyaki steak tips, but at the restaurant, I love making the Blue cheeseburger, diners don't expect to get such a great burger for the price.
TW: Do you cook at home?
DS: I do sometimes, but for the most part, my wife does most of the cooking.
TW: What the most popular pizza on the menu?
DS: Our most popular pizza after the classic pepperoni and cheese is the meat lovers.
MORE INFO:
Open 7 days a week – 10:30am-9pm
Upper Main St.
Martha's Vineyard
Edgartown MA 02539
508.627.7770