Prolific Musician Returns to Vineyard for 3rd Consecutive Summer
by James Reagan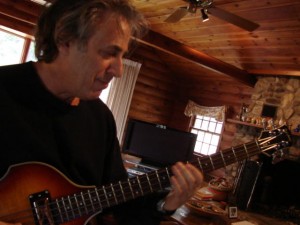 On Tuesday August 6th, Dreamland will present one of the summer's most anticipated rock shows on the Vineyard, when singer/songwriter Danny "Kootch" Kortchmar will take the stage with his self-described "cats from Connecticut."
While Kortchmar will play lead guitar and sing, he will be joined by Tim McDonald on the rhythm guitar, Ed Corvo on bass guitar, and John Peckman on the drums. There is also going to be an opening act, although promotions website ticketfly.com teases that it's going to be a surprise!
For Kortchmar, this is not his first show on the Vineyard. He's played on his former summer vacation-home multiple times over the years, including shows in both 2011 and 2012.
"I've been going to the Vineyard for the summers since I was five years old," Kortchmar says. "It has a special place in my heart cause my buddy James [Taylor] and I got our starts here playing in coffee houses and restaurants."
Back then; Kortchmar spent his summers living in a vacation home in Chilmark. It was here that his mother signed him up for guitar lessons at age 10. It has also been a place that Kortchmar continues to visit frequently and even lived at for two years with his wife and two daughters.
In addition to his friendship with Taylor, Kortchmar has had a long and established music career that has enabled him to meet lots of other successful musicians. In the '70s, he worked as a studio musician for bands like Crosby, Stills & Nash and Jackson Browne.
An accomplished guitarist, Kortchmar also lent out his musical skills as a drummer and a producer. Some of the artists that Kortchmar produced for include Jon Bon Jovi, Billy Joel and Neil Young. Musically, Kortchmar is a fan of extreme diversity. "My songs range heavily from ballads to hard rock to reggae," Kortchmar explains.
Although he doesn't have an album credited to his name since 2005's Midnight Eleven, Kortchmar has a great catalog of songs that should be easily accessible to new listeners and longtime fans alike.
Perhaps the most famous song he's written, "Somebody's Baby" appeared on the soundtracks for both Fast Times At Ridgemont High and Good Will Hunting. "Shaky Town," another one of his more famous songs, was also co-written by his friend and frequent collaborator Browne.
"I'm very excited for this gig and looking forward to coming back home," Kortchmar shares.
Dreamland • 9 Oak Bluffs Ave, Oak Bluffs
Doors: 9:00 • Show Starts: 9:30
Admission: $30 • Event is 21 & Over