Citrine Supplies Fashion and Jewelry for All
by Hannah Payne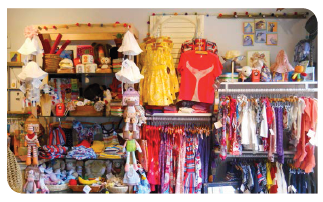 Citrine, named after the yellow-orange gemstone said to promote creativity and inspiration, is a darling boutique teeming with island treasures. Conveniently located on Main Street in Vineyard Haven, Citrine features distinctive creations from more than 30 local artists.  "The island is rich with creative artisans, and I am happy to have the opportunity to display their latest inspirations through consignment at my store," says owner, Emma Kiley.
Offering clothing, jewelry, shoes, accessories, home décor, and much more, Citrine is a must for both locals and visitors.  Browse the adorable children's corner, full of irresistible dresses, organic farm buddies, and hats.  The store is bursting with bohemian/hippie influences.
Explore the woven bags and grab an herbal pillow that is promised to soothe aching muscles and relieve headaches.  Embrace the gypsy fever as your eyes fall on the fringe, the lace, and the embroidery.  Take in the textures, the bold prints, and the sunny brights as summer arrives.
"I try to balance the latest fashion trends with practicality and affordability for islanders and visitors.  Since I got my start selling handmade jewelry through consignment, it is important to me to carry products made by local and regional artists.  While I do like to incorporate the latest seasonal color palate, I don't let the latest trends completely dictate what I carry at Citrine," shares Kiley.  While the boutique continues to expand, Kiley remains mindful of the labor and the materials that go into crafting such charming pieces.  Brands such as Clara Dara and Vaalbara can be found scattered around the store.  These particular brands are known for using recycled materials, sewing their clothing and accessories by hand, and donating a portion of every sale to non-profit organizations. Among the plethora of environmentally conscious pieces, you will find scarves made from organic cotton and non-toxic dye as well as women's handbags made from repurposed textiles.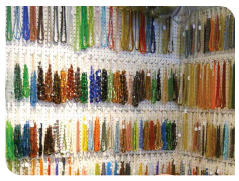 With a section devoted solely to beads, Citrine supplies many of the jewelers on the island as well as casual beaders.  A major attraction, the boutique encourages customers to construct and customize their own necklace, bracelet, or earrings.  Store manager, Allie Horowitz even offers beading and wire-wrapping lessons (private or group).   Kiley perfectly sums up Citrine's appeal in her closing statement: "Over the last eight years, inspiration for Citrine has largely been influenced by my past experiences travelling and making jewelry.  I am inspired by working with local artists to create functional and beautiful items for the community.  As a result of these collaborations, Citrine encompasses a diverse assortment of unique, contemporary, and affordable clothing, jewelry, and gifts created by island artists. This type of network takes time to grow but has the important advantage of being adaptable to the community's desires."
Citrine is open year-round; however, the store hours will soon be changing for the summer season.  Located two doors to the right of Mocha Motts, grab an iced coffee to celebrate that perfect purchase!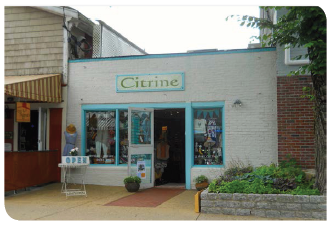 9 Main Street
Vineyard Haven, MA 02568
508-693-4445
Cash or Card