by Elyse Brightman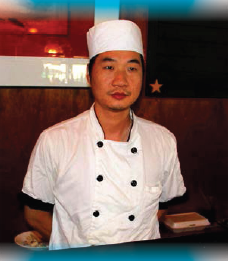 The only thing as good as the view at the Seafood Shanty is the sushi served in the dining room. Chef Xiang Yong Chen, otherwise known at "Henry," rolls up classic favorites like the spicy tuna roll or the raw salmon roll. There's also a list of chef specials like the Shanty Roll with eel, avocado, spic y mayo topped with salmon. Henry and the team work seven days a week for lunch and dinner to serve up the best sushi in Edgartown.
TW: What brought you to the Vineyard?
HC: I worked at Tao Restaurant in New York and came over with my friend.
TW: Where did you learn to make sushi?
HC: I learned at the Haru restaurant in Japan
TW: How long have you been making sushi?
HC: More than 15 years.
TW: What's your favorite type of sushi?
HC: Tuna, salmon and yellow gill
TW: What do you do on your days off?
HC: Hang around the beach.
TW: What are your plans for after the summer?
HC: Go back to the restaurant in New York.
MORE INFO
31 Dock St, Edgartown, MA 02539
(508) 627-8622
Open Daily: 11:00 am – 10:00 pm
theseafoodshanty.com