The Wharf Restaurant and Pub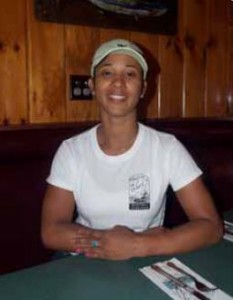 Head Chef Rosie De Paula of the Wharf Restaurant and Pub is somebody who enjoys going into work. She radiates positivity and in a brief chat with her you can tell she loves what she does—actually, everyone who dines at The Wharf loves what she does. Their massive menu offers everything from salads and apps to Cod Fish, a Steak Salad, juicy 8 ounce Burgers and a Prime Rib. The portion sizes are perfect and each dish has superb flavor.
The menu offers so many different looks and tastes that it's impressive that Rosie and her team are able to deliver each dish to your table prepared to perfection from the same kitchen. located in the heart of Edgartown, The Wharf is a wonderful place to eat pub fare, comfort food and seafood all in one place. And with Rosie leading the way in the kitchen you're guaranteed to be satisfied!
Q: How did you get into cooking?
A: Just cooking at home basically. Then when I came on island and saw all the wonderful food, especially seafood, I became very interested in cooking.
Q: Where was your first professional kitchen experience?
A: I started here at The Wharf in 2001 and it was my first professional cooking experience. I've worked every position in the kitchen here and after nine years I became Head Chef.
Q: What is your favorite dish to prepare?
A: My Steak Salad. It's mixed greens, chopped tomatoes, juicy steak tips, blue cheese, caramelized onions and is served with a balsamic.
Q: What is the best part of your job?
A: When the night is over and I see those hundreds of ticket orders that we cooked and we know we did a great job.
Q: Who is your favorite chef on Martha's Vineyard?
A: John Ship, I worked with him and learned a lot from him. He used to own a restaurant that had Brazilian and American food.
Q: What do you usually make for yourself at home?
A: A Brazilian lunch which is rice, beans, meat and barbecue.
Q: If you could dine with any three people, who would they be?
A: My boyfriend Danny Cassidy, my boss Will Coogan and my manager Jeff.
The Wharf Restaurant and Pub 3 Main Street, Edgartown