by Dirk Leisure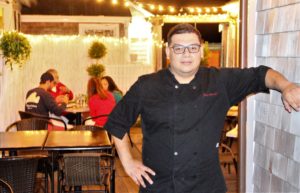 Upon Jimmy Avarado started life far from here, in fact far from America. He was born in Peru and spent his early years there growing up in an Italian – Peruvian family before immigrating to the US, settling in New Jersey. Jimmy had grown up with an interest in cooking, having several Chef 's in the family, but early on he chose a different path. After completing training as an Audio/Visual Technician, Jimmy went to work as a young adult.
Jump forward a few years and Jimmy felt the calling that was in his families blood. Ditching his career in AV, he went back to school at 24 and attended culinary school. He was now a Chef, like so many in his family before him. It wasn't until a few years later when a friend talked him into taking a job at the Harbor View for the summer that Jimmy found his way to the Vineyard. He never thought it would lead to a place he would eventually call home until he met the Sullo's and joined their families restaurant as Head Chef. Jimmy had found a home and a family far away from his own, sitting at the table at Sullo family holidays and helping them do what they do best, run the best authentic family Italian Restaurant on MV.
A relatively new venture for the Sullo's, Isola struggled to find its identity for a couple of years, trying new menu's and different Chef 's, who were never able to fit in with their tight knit clan who all work together under the patriarch Peter. But serendipity took hold when the Sullo boy's, Anthony and Nikolai, befriended Jimmy and introduced him to the "family". Isola settled into its comfort zone and people started to swarm the place. Now the islands most popular Italian restaurant, Isola's family restaurant has a new member. We caught up with Jimmy getting ready for a busy night in August to find out more about him and the restaurant he now calls home.
This Week – How did you connect with the sullo's and Isola Restaurant?
Jimmy Alvarado – My friend that I worked with at another restaurant said they needed some help so I came in and expedited for them a couple of nights. It was just a temporary thing but a couple of weeks later I got a call from Peter asking me if I wanted to come on board.
TW – And that has made all the difference here hasn't it? It's really become very popular here after you arrived.
JA – It has. It's a lot of things that all came together. We are really busy every night. We usually do about 110 covers but I want to see it busy all night from like 5:30 all the way through to the end. My goal is 200 covers a night and it's possible because we have done it before. I want to see it happen every night
TW – The Sullo's are a very tight knit family. How is it for you getting involved with that kind of dynamic?
JA – At first I was friends with just Anthony and Nikolai and then I met Gabbi and then after Peter brought me onboard and we all got to know each other and they appreciated my work we all just got closer and closer. With me having my family so far away, on holidays I was spending it with them (the Sullo's).
TW – Oh wow! So you really are like family now lol, I guess that's what makes them so successful as an Italian family
restaurant. They really are authentic in every way. The way they treat you is proof of that.
JA – Yes, definitely. They have been great to me
TW – So tell me a little bit about the Menu. Its Italian, it's very Italian. How do you identify with that?
JA – Well I come from an Italian–Peruvian family. My great grandmother and great grandfather came from Sicily and they lived in Peru so my mother was Italian and went to an all Italian school. I was raised eating all these Italian dishes and it didn't hit me until I was up here. I was like, not a lot of Peruvians eat Italian food and I had been eating it all my life. So I might have some Peruvian influence in the Italian dishes I cook. That definitely drove my menu choices but its also driven by what's available at the time. It has to be fresh. So like in the fall basically towards the winter we will have Bay Scallops and then like Gnocci is like seasonal. I try to use Lobster and mixing it with Pepper Lemon Gnocci. I'ts like a fusion of things that are available fresh with idea's we have for cooking them.
TW – So when you guys talk about the menu, do you sit down as a group? And make changes to it?
JA – Sometimes we adjust to what our customers want or what is selling at the time. The menu is an evolution. It's constantly moving and evolving. It's something we are always working on.
TW – Ok, so what about if you're not Italian and you don't know how to even pronounce the dishes, let alone know what they are? Do you have anything simple on the menu for people that they would recognize easily? Like Spaghetti and meat balls?
JA – Yeah so there is kind of like a secret menu lol. We do have spaghetti and we do have meat balls. You can ask for it and we will definitely make it for you. When people don't know much about the menu and just want something simple. We have that. Yes.
TW – Well it sounds like everything is going great for both you and the Sullo's here at Isola. We wish you luck in your new family and look forward to tasting your food in our upcoming Restaurant profile when we actually get to come in and taste everything! Thanks for taking the time to speak with us Jimmy.
MORE INFORMATION
19 Church St, Edgartown
(774) 549-9446
isolamv.com