Catching Up With Chef Antonio Saccoccia of The Grill on Main
by Courtney Taylor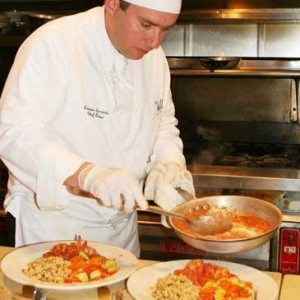 The Grill on Main in Edgartown is a fantastic find for the traveling tourist or hungry islander. The Grill offers outstanding New England-American Cuisine. Antonia Saccoccia has been the chef and owner for the past 11 years. Chef Antonio was born and raised in the restaurant industry, and, as a graduate of the Culinary Institute of America, Antonio has years of experience working in Rhode Island and New York restaurants.
Restaurant reviews proclaim The Grill on Main as "efficient" and "delicious." Chef Antonio is behind the restaurant's friendly, personable atmosphere and quality dining experience. Rumor has it that the Chef will personally customize your meal to accommodate your health or allergy specifications upon request.
TW: If you could prepare a meal for a friend, what would you make?
AS: I love to prepare many dishes. For my friends, I would enjoy making a roasted rack of domestic lamb or delicate lasagna.
TW: How long have you lived on the island?
AS: I have lived on Martha's Vineyard for 25 years.
TW: If you were not a chef, what occupation would you choose?
AS: I like trucks a lot. If I were not a chef, I would love to operate and excavate.
TW: Tell us a fun fact about yourself.
AS: I also was the chef and owner of The Feast of Chilmark for 12 years during the 90's and early 2000's.
TW: You sound busy! Do you ever get a night off?
AS: I work everyday to personally ensure that all of my guests are enjoying their experience at The Grill on Main.