The Vineyard's Homegrown Dance & Performance Festival
by Colin Stoecker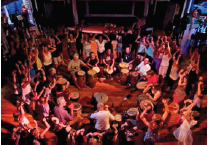 Built on Stilts is celebrating its 17th year as the Vineyard's own homegrown dance festival in Oak Bluffs. The show takes place the weekend of Thursday August 8th through August 11th and this coming weekend, Saturday the 17th through Tuesday August 20th at the Union Chapel in Oak Bluffs.
The dance and performance festival features the work of over 40 choreographers, dancers, and musicians, and is a must see event for dance enthusiasts, tourists, and everyone in-between. Built on Stilts held its first live performance on the Island in 1997 and has since grown into an eight night extravaganza of dance and arts culture on Martha's Vineyard.
The show is named after a dormitory at Bard College, the director Abby Bender's alma mater. Bender is the orchestrator of Built on Stilts and the Stiltshop, a fun kid's day camp for dance performance held on the Vineyard each summer. "This weekend's performance represents the island's remarkable artistic spirit, and the true diversity of people from near and far who bring their own culture to the island," remarks Bender, "but really it is the dancers who make it special to watch."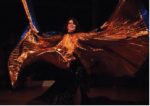 One of the dancers, Mercedes Searer and co performer, Danny Moore, are with Peter Kyle Dance in New York City, and commented about Friday night's show: "We are all here to share in the collective enjoyment of dance and it is great, with so many people of so many different experience levels, backgrounds and places all coming together in this one performance. I haven't ever been to Martha's Vineyard" she adds, "but the vibe tonight is excellent and there is a different energy here!"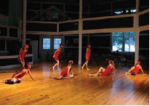 The event showcases male and female performers of all ages. Teo Azzollini has been preforming in "Built on Stilts" since she was five years old. Azzollini says that "everyone is super supportive of each other, positive, and this is the best audience." Bender, although modest, is also an accomplished dancer herself. Her self-described motto for the festival is that its "all-inclusive philosophy has attracted an enormous range of choreographic sophistication and technical ability, defining Built on Stilts by its collective energy and creative output, as a home in which professional participants are free to experiment and fledgling performers can discover the joy of making dances." "And what is great about the show is that it's different every night, tomorrow night will be even better!" adds Bender.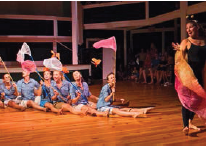 Built on Stilts is a confluence of many different local Vineyard artists and off-island companies who will get the chance to showcase some of their creative work to the public. The names include: Peter Kyle Dance, Kelly Peters Dance Company, Selby Dance, Larkspur Dance Company, Jones-Haywood Dance School, Reject Dance Theatre, Karesia Batan & Adam Boncz, Kelly Peters Dance Company, Emily Craver, Alison Hurd and Emily Pacilio, Naomi Goldberg Haas and Noah Kulick, Andy Jacobs, Maria Simpson & Sondra Loring, Megan Bascom and Dancers, Lee Roc Dance, Kinetic Synergy Dance Co. Maggie Sabella, Jaymee Weaver, Javier Spivey, as well as Abby Bender.
Martha's Vineyard Cultural Council, a local agency which is supported by the Massachusetts Cultural Council, is a state agency responsible for the funding behind the event and what makes it possible for the such an awesome community event to stay free to the public, also with the help of donations!
The event kicks off on Saturday night with a drum circle at 7:30pm, and all musicians are invited to join! This event is free to the public and no reservations are required. For more information visit builtonstilts.org!
MORE INFO
August 17-20, 2013 – Union Chapel – 55 Narragansett Ave. – 508-627-4440
Doors open at 7:30pm each night with a drum circle, and dancers warm-up demo.
Dance performances start at 8pm.
Admission is free, no reservations required. Donations welcome!
builtonstilts.org