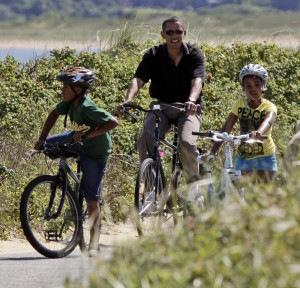 Although I usually blog about concerts or local bands on the Vineyard, this time I'm going to talk about something near and dear to my heart. Riding my bike around the island or actually in my case, remembering when I could ride my bike around the island.
This is because on Friday morning I returned to a bike rack in Vineyard Haven only to see that my recently acquired bike had been stolen. I filed a police report after a few hours of searching and while I wait, I'm now back to being a walking or riding the bus everywhere that I go.
It doesn't take long to realize that biking is a popular way of transportation on the Vineyard. As the picture above shows, even President Obama and his family are known to sometimes ride bikes during their vacation here. With all the great bike trails and the expenses that need to be paid to bring a car over, biking is a major form of transportation here. Usually it's a fun and exciting way to travel too, as long as you follow some rules and don't make dumb mistakes. As a biker who has learned things the hard way, here's some of my advice for anyone who wants to bike on the island.
1. Be sure to lock up. Although there are bike racks all over the island, leaving a bike there without a lock is asking for trouble. There are multiple bike stores all over the island, which can provide locks and even new or rental bikes for prospective riders. Locks will have a pretty wide price range but typically you can find one that gets the job done between $20-$30.
2. Wear a helmet. Yes, I know it never looks cool to wear one of those helmets and oftentimes it makes you feel like you are five years old again. Seriously though, head injuries are no laughing matter and those are quite common in bike accidents. A helmet could be what prevents a nasty bruise or even something worse like a concussion.
3. Consider renting. If you only need a bike for one day or just a week, consider paying for a rental. Rentals are all over the island, including at stores like Anderson's Bike Rentals in Oak Bluffs and Martha's Bike Rentals in Vineyard Haven. At Martha's Bike Rentals for example, you can rent a mountain bike for one day for only $25. A week with the same bike will only cost you $90.
4. Be sure to be able to give a description of your bike. With bikes being relied upon by so many people, it is inevitable that theft will occur. To prepare for this worst case scenario, take a picture of your bike on your phone. Or at least, write down the type of bike, the color, the types of speeds offered and any other identifying marks. It'll help you out a ton if you're ever filling a missing bike report with the local police.
-James Reagan