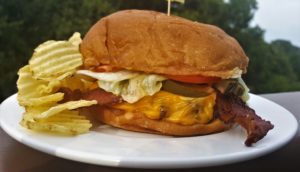 One thing everyone who has visited the Ritz Cafe can agree on since this Oak Bluffs institution came under new ownership a few years ago, is that whatever they do, they do it right and they do it well. From incredible live music to successful events, the Ritz has proven it is out to be the best. It's Ritz Burger is proof of that.
Since starting this section, we have seen and tasted all kinds of burgers. We have tried many different burger's offered by a single restaurant. The Ritz has decided to do things, well, a little differently.
Surprised right?
The Ritz knows that the base of a burger is the important part, so they leave the add-ons to you– the customer. After all, you know what you like better than someone making up a menu.
The Ritz burger starts with a hearty Angus beef patty cooked to order. Sandwiched in a fresh Portuguese sweet bread bun, the burger is dressed with a secret homemade Ritz sauce akin to a Rémoulade sauce. This accoutrement is so tangy and delicious you might not need anything else. But since this is a build your own burger, and we know you can't pass-up on that opportunity. We suggest adding mushrooms, cheese, onions, bacon, coleslaw, a fried egg and some of the Ritz's own home made pickles.
Now that's a burger!.
We tried it and it was so good we can't wait to go back for a full menu profile. Stop by the Ritz and try their "Build your own" Ritz Burger. You will love it as much as we did.