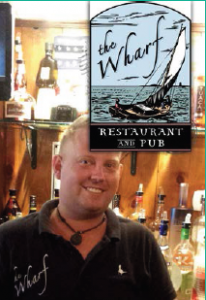 How did you end up on the island?
KK: Just came out for the summer nine years ago and liked it so much that I've come back every year since.
What's your favorite drink to make?
KK: The Snow Cone, which consists of Svedka Clementine Vodka, chilled with Red Bull and a splash of Sprite.
What's your favorite ba r to go to when you aren't working ?
KK: Seafood Shanty, especially love the top deck.
What's your favorite drink to serve at work?
KK: Twisted Tea or Pabst Blue Ribbon.
Do you have a funny bar story?
KK: Not really. Just everyday at 4:30 when the locals come in, there's never a dull moment with them.
Have you met any celebrities while bartending ?
KK: Cam Neely, Bam Marjara. There's a bunch of them here, half the time you don't even realize who they are until they are out the door.