by Ashley Amato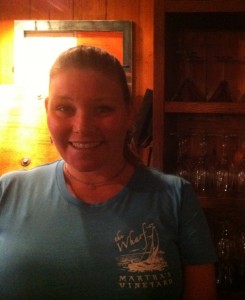 TW: How did you end up on the island?
JD: I was born and raised here. I went to Tisbury School and then went to high school here. I left when I graduated high school and went to California for ten years and then came back. I had bought a car and drove across the country and up the coast to Santa Cruz.

TW: What is your favorite drink?
JD: My favorite drink that I like to make myself is clementine, vodka, and soda water. But it's kind of boring for other people so I often suggest a Dark and Stormy or a Mudslide.
TW: What is your favorite drink to serve at work?
JD: I like to serve Cosmos–vodka, triple sec, and lime juice. They look pretty and they are a nice drink when you go out.
What is your favorite bar to go to when you are not working?
JD: I like to go to The Seafood Shanty on summer days. I like to sit on their deck and get a mojito. I also go to The Lampost sometimes. I like the bartenders at both places. They are awesome and we are all friends.
TW: Do you have any funny bar stories?
JD: When I was working one night, Payton Manning came in but I didn't know who he was. He was halfway in the door, and I had no idea who he was–he was huge. Everyone just kind of looked at me and looked around at all the Patriots pictures. He said, "This is a little too local," and then left. I thought that was rude but then my buddy told me he was Payton Manning!
TW: Have you seen any other celebrities at The Wharf?
JD: The Farrelly brothers come in, as well as Luke and Owen Wilson with Wood Harrelson. Meg Ryan comes in and has lunch because she is living in Chappy. A bunch of people come in and it is almost as if they are incognito. Kirsten Dunst came in and sang karaoke. She was just in jeans and a t-shirt.