Island's "Best-Kept Secret" is Secret No Longer
by James Reagan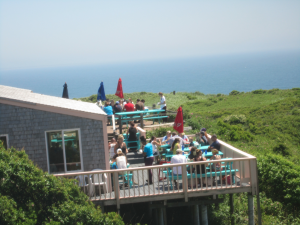 No trip to the Vineyard is complete without taking the time to travel to Aquinnah. The island's westernmost town is known primarily for gorgeous landmarks such as the Gay Head Cliffs and the Aquinnah Lighthouse. It also features one of the more unique dining experiences on the island with the Aquinnah Shop.
This family-run restaurant, run and managed by the Vanderhoops, has served visitors to the island's outermost western tip since the 1940s. Family is still important here with Matthew Vanderhoop owning the restaurant and his son Jacob being employed as the head chef.
Initially known as a sandwich shop, Jacob has since transformed the Aquinnah Shop's menu. "I really like seafood and I think my experience studying at Le Cordon Blue College has inspired my cooking here," Vanderhoop said.
Seafood certainly is a good choice for guests at the Aquinnah Shop. Homemade fish cakes are offered at every meal; blue fish and striped bass are also favorites during their respective seasons.
One of the newest additions to the menu has also proven to be very popular. The lobster salad consists of arugula, endive, mandarin oranges, avocados, and red onions topped with lemon vinaigrette.
In order to accommodate the increased summer crowds, the Aquinnah Shop extends its hours to include during the summer months of July and August. This is because one of the draws of the shop is the amazing sunset view that it offers as the only sit-down restaurant directly located on the Gay Head Cliffs.
"When we get a beautiful sunset, people love to sit out on the deck," Vanderhoop says. "Sitting out in the sun with this view, you have nothing to complain about."
The sunset may be highly recommended, but the view remains just at breathtaking throughout the whole day. For those who want to get out of the sun, the Aquinnah Shop also provides indoor seating.
Come out to a place known as "the island's best kept secret" and enjoy the best seafood offered in Aquinnah!